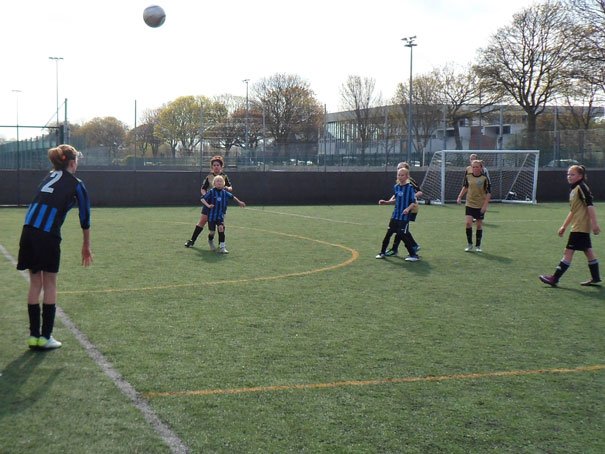 With a home tie for the semi final on the 3G pitch in Hull, Pinefleet immediately capitalised on the home advantage and struck a ball firmly in the back of the Eagles net within only a few minutes of the start of the game.
Undeterred the Eagles continued with the game in their usual determined manner exhibited perfectly by Bella Brittain who never stops battling hard every match she plays.
The Eagles broke through with Niamh Foster delivering an inch perfect pass to Anya Shepherd who had a good shot on goal going just wide of the post.
Pinefleet continued to push forward well though but the pressure was soaked up time and time again so well by Izzy Holmes in the middle of defence. One such great clearance from Holmes found the skilful feet of Foster whose excellent shot at goal was saved well by their keeper.
Pinefleet retaliated and the strike was stopped by an outstanding diving clearance from Georgia Todd who made some amazing saves throughout the match. Towards the end of the first half Beverley's confidence grew and they started to gain possession as Lucy Norton working hard as ever and effortlessly took the ball off the strikers boot and ran it up her line to release our attackers.
Mia Cunliffe played really well in midfield covering lots of ground and it was only an unlucky bounce that gave Pinefleet another goal just before the half time whistle.
The home side are a division above the Eagles but this did not frighten the Beverley side. Reanna Wardill worked tireless in defence stopping numerous attacking moves from coming to fruition and they were unlucky not to score as Jenna Moore pushed so hard up front forcing a goal line scramble.
Pinefleet scored their third goal after the ball rebounded from a stunning reflex save from Todd into the striker's path and it was a penalty decision that gave Pinefleet their fourth goal edging the game beyond Beverley's reach. The Eagles fought hard to the end and Hollie Davison came on and played so well.
The whole team should be so proud of their efforts and commitment in this physical match.
Final score Pinefleet Wolferton U12 5 Beverley Whitestar Eagle U12 0