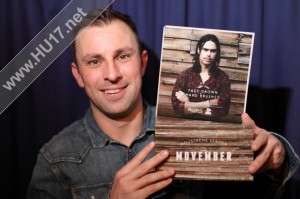 During November each year, Movember is responsible for the sprouting of moustaches on thousands of men's faces in the UK and around the world. The aim of which is to raise vital funds and awareness for men's health, specifically prostate cancer and other cancers that affect men.
Beverlonian Daniel Williams is doing it in support of his Dad who suffers from prostate cancer.
"I remember my Dad telling me he had cancer and it knocked me for six so I hate to think how he must have felt when he was told by the doctor."
"My Dad has done really well and the least I can do is try to not only raise some funds but also awareness of a subject that isn't spoken about enough."
"Last year the lads at Beverley Rugby Union club did a sterling effort which was covered here at hu17.net and I want to try and take what they began and spread it around Beverley a bit more for 2011".
So how does it work?
On Movember 1st, guys register at Movember.com with a clean-shaven face and then for the rest of the month, these selfless and generous men, known as Mo Bros, groom, trim and wax their way into the annals of fine moustachery.
Supported by the women in their lives, Mo Sistas, Movember Mo Bros raise funds by seeking out sponsorship for their Mo-growing efforts.
Mr Williams added;
"So far everyone has been very supportive and we must say a big THANK-YOU to the staff at Kings Head, Bar Fusion and also Rick at Rick Robert's Salon."
"These guys have not only asked for a collection box (which you will find on the bar/counter so drop in your lose change) but are even going so far as to join the team and grow some facial hair. True bros!"
"Movember have given us our very own web-page, click on the link and join us….
http://mobro.co/thegrobbelaars

– In joining the team you don't have to grow a moustache or even donate, it merely shows that you are supporting us in our efforts. If you join you are given the tag of a 'Mo Bro' and it is not just restricted to 'Bros' we want 'Mo Sistas' too, supporting us in our efforts. Also if you do join you will get to see the photo's of our progress and dish out some banter along the way.
Williams' team is known as 'The Grobbelaars' (after the alleged match-fixing goalkeeper of the famous 80's Liverpool side) when moustaches were vital if you wanted to be recognised. "Back then you weren't anyone unless you had a moustache which is probably why my Grandma had one…." said the clean-shaven ex-football manager.
"If you do donate this then not only makes you feel like you did something good but also allows you to stop, point and laugh at us in the street as we try to groom our moustaches in to something to be proud of.
Mo Bros effectively become walking, talking billboards for the 30 days of November and through their actions and words raise awareness by prompting private and public conversation around the often ignored issue of men's health".
At the end of the month, Mo Bros and Mo Sistas celebrate their gallantry and valour by either throwing their own Movember party or attending one of the infamous Gala Partés held around the world by Movember, for Movember.
If anyone would like to make a donation please either join the team through the link above or visit one of the places call Daniel on 07825 777387.