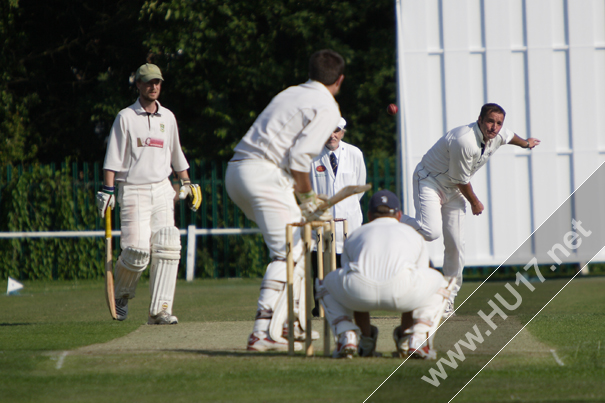 Beverley Town CC 1st XI lost at home in the league for the first time this season when they were beaten by Sessay.
The 4th XI made it a poor day at Norwood when Cottingham ran out easy winners but the 2nd and 3rd teams fared much better on their travels with convincing wins at Pocklington and South Holderness respectively.
York Senior League
Premier Division
Beverley 1st XI lost to Sessay by 7 wickets
1st XI 231 for 9
Sessay 232 for 3
The 1st XI lost their unbeaten home record when they were comfortably beaten by Sessay on a very good batting track at Norwood. The visitors, although languishing near the foot of the table, have been one of the stronger sides in the Premier Division and Town proved no match for them on this occasion.
Batting first Beverley added 38 in good time but both openers and Jon Fisher went in a mini collapse so the new batsmen had to start again. The in-form Tony Spence (55) and Faisal Abid (54) both scored half centuries and Jon Vodden (36) unleashed some big hits towards the end of the innings to take Town to a respectable 231 for 9.
Late call offs had left the Town bowling attack a little lop-sided and defending the total proved beyond them. An unbeaten century from Wilkie was the mainstay of the Sessay innings as they won by seven wickets with overs to spare leaving Town with just six points for their efforts.
Town lay in sixth position at the halfway point in the season, two wins behind third place, but they will hope to continue playing positively. They have scored plenty of runs this season so far with Fisher and Spence both in the top ten run scorers in the Premier League with over 400 runs and Jamie Mitchell and Peter Groves, both absent last Saturday, approaching the 300 mark. Town travel to Goole, second from bottom of the table, this Saturday as the return fixtures begin.
Division 2
Beverley 2nd XI beat Pocklington by 6 wickets
Pocklington 211 for 8
2nd XI 213 for 4
Beverley Town 2nd Xl got back to winning ways against Pocklington on Saturday to keep in touch with the chasing promotion pack. Stand-in skipper Tim Smith lost the toss and the home side batted first on a sweltering day. The returning Guy Brumfield opened the attack with Nick Robinson and both bowled decent opening spells. Smith mixed up his bowling options and introduced Pete Parnaby who was in for a long spell. Beverley had Pocklington deep in trouble at 89 for 5 but their lower order batted well against a good bowling and fielding display and the home side racked up 211 for 8. The dependable Parnaby finished with 3 for 52 and Robinson 3 for 80. Town held some great catches, one particular effort by Paul Best which nearly took him off his feet.  He also took two well judged efforts in the outfield and Alex Nightingale also made a fine running catch.
In reply Beverley got off to a good start with Smith looking in good touch, the on-drive frequently on display, and Andy Burton, making his way back from injury looking solid. Smith reached his half century before he was out for 54. Burton soon followed for 27. Best, who survived an early leg before appeal before he found his form, and Will Wilson put together a good partnership at a decent rate before Best was deceived by a slower ball and departed for 39. It was left to Wilson, who made an excellent 76 not out, and the experienced Tim Fordon (1 no) to add the 45 runs needed to see the Beavers home with six wickets and plenty of overs to spare. The game was well officiated by two portly club umpires wearing hats.
East Yorkshire Alliance
Premier
Beverley 3rd XI beat South Holderness 1st XI by 7 wickets
South Holderness 201 for 8
3rd XI 204 for 3
The 3rd XI got back to winning ways with an excellent victory at Hedon against South Holderness. Town skipper Kieran O'Brian gave the home side the opportunity to bat first on a good looking track. Beverley's bowlers kept it tight early on with Matty Saint (6 overs 0-21) and O'Brian himself (12 overs 1-17) setting the standard. Sam Horton kept up the economical bowling taking 1 for 24 and the returning Matt Smith (12 overs, 3-63) played a significant role in proceedings. Graeme Taylor was the surprising choice as the additional bowler, turning his arm for the first time this year and did not let anybody down with figures of 2 for 14 from six overs. The Beverley fielders also backed up the bowling with some good catches. South Holderness closed on 201 for 8 off 48 overs.
In reply, fortified by a good tea, Beverley set about their task. They lost two early wickets but Kev Thompson (79 no) and Taylor (84) started a great partnership with care and accelerated when needed with some lusty blows and some classic shots. All-rounder Taylor said "It was a very enjoyable partnership and it is the best I have seen Kev Thompson bat for Beverley. We both just made sure we stayed in until twenty overs were remaining then I opened up and he tried to keep up with me!!" Paul Fleming hit a huge six to give Beverley the win by seven wickets with twelve balls remaining. The maximum twenty points leaves the 3rds right in mid table in the Premier League just one win behind third place but also one win from the drop zone.
Division One
Beverley 4th XI lost to Cottingham 1st XI by 8 wickets
4th XI 193 for 8
Cottingham 196 for 2
The 4th XI were given another lesson when they were beaten by Cottingham at Norwood. RJ Thompson continued his good form but, as has been the norm in his Beverley career, he failed to reach three figures thus avoiding having to get a round in. Thompson made 89 and captain Rich Simpson made 40 in a partnership of 98 for the third wicket. Rob Wicks looked in better form but fell to a good catch for 14 and Gareth Richardson hit a useful 22 in the middle order. Those batsmen aside there was little input from Town players and they closed on 193 for 8 to only take three batting points on a very good surface.
Cottingham made light work of the target despite losing an early wicket. Danny Moss, having a good season with the bat, was the star of the show with a chanceless unbeaten 124 as he took on the six bowlers used by Town. The bowling attack lacked a little application, struggled with the new ball, and wilted somewhat in the heat but all credit goes to Cottingham who ran out comfortable winners with twelve overs to spare, having lost just two wickets. Town travel to Sutton on Saturday undaunted and will hope to recover their form of a few weeks ago.
Newland Evening League
Beverley beat Hull by six wickets at Chanterlands Avenue in the Newland Evening League. Town restricted Hull to 110 for 6 in their 14 overs with Adam Nicholson (3 for 30) the best bowler. The welcome inclusion of Andy Burton, Nicholson and Tony Spence in the side meant Town were able to show a hugely improved fielding performance and Jacob McMullen combined with Rob Fish to produce an excellent run out too. Alex Nightingale (30), Iain Gillyon (23) and Spence (21) saw Beverley home with 14 balls to spare. Spence took over as captain from the rested Alan Acklam and acquitted himself well in what was a good team performance.