Molescroft Rangers keeper Paul Bryce is counting the cost of his bravery in Tuesday night's 2-1 Junior County Cup Final defeat by Dunnington Reserves at Pocklington Sports Club.
Rangers' number one put his body on the line after just 40 seconds, saving superbly from Dunnington's Ollie Elwood as he tried to latch on to a speculative through ball.
But it proved to be a disaster for him and his side. He suffered a broken bone in his arm and after a long delay had to be replaced by Matthew Spencer – a blow that Rangers never really recovered from.
Bryce told HU17.net: "I fractured the ulna bone in my arm, so the season is over for me.
"I was obviously gutted to have to come off. I desperately wanted to play on but not being able to put my glove back on was a worry!
"The lads did themselves proud though and we'll be back next year."
It looked like Rangers would be put to the sword as Spencer was beaten just minutes later when Dunnington's Gareth Miles leapt to meet an inswinging free-kick that the sub keeper just couldn't get to.
The York side piled on the pressure and only Spencer's bravery – and some committed, last-gasp defending – kept Dunnington at bay until the break.
All the pressure still came from Dunnington early in the second-half but Rangers – serious underdogs for the cup – dragged themselves back into the reckoning.
And their efforts were rewarded when, on 49 minutes, Mike Nicholson's long-range free-kick somehow evaded everyone and nestled in the back of the net.
Try as they might Rangers couldn't get the goal their hard work merited, and it was hard on Spencer and his team mates when they failed to clear a corner with the game heading for injury time, the ball falling to Will Pepper to slam home and earn Dunnington their third cup final victory in four years.
Photos & Report by Scott McHugh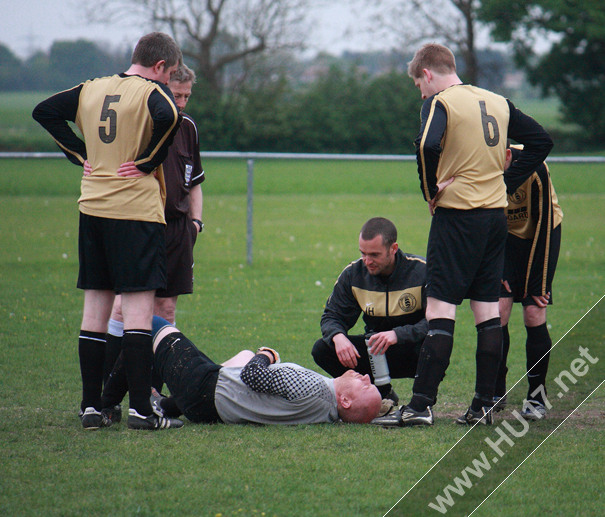 HU17.net Picture Gallery: Click on the thumbnail picture below to enlarge the image to full size
HU17.net Picture Gallery: Click on the thumbnail picture below to enlarge the image to full size