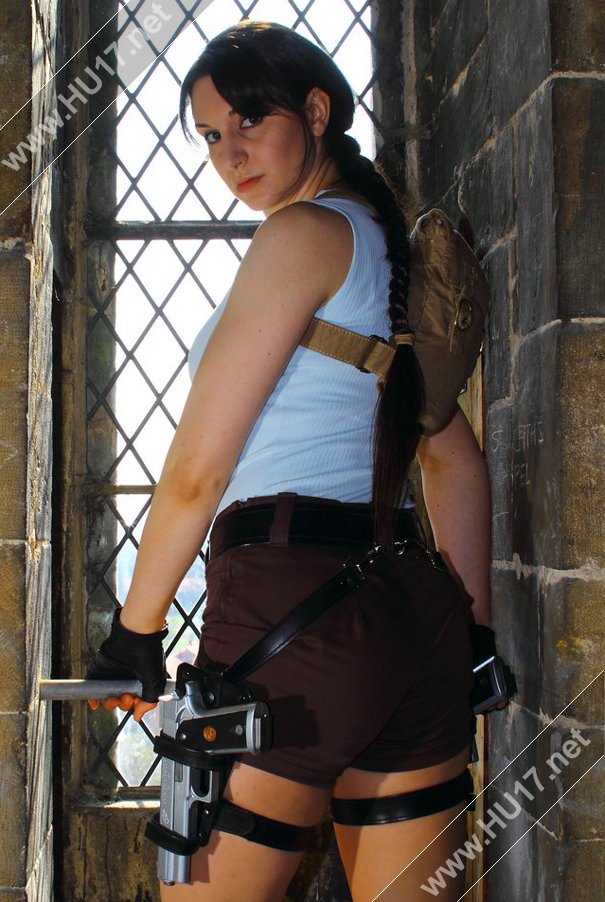 HU17.net enjoyed a morning's shooting at Beverley Minster and St Mary's Graveyard with computer-game and movie icon Lara Croft.
Lara, the star of EIDOS' classis Tomb Raider series of console games and made famous to non-gamers through Angelina Jolie in the film series, is the alter-ego of Beverley model Heidi Taylor.
Heidi is on the books at new Beverley model agency Beautiful Freaks, run by Kirsty Mills, and it was thanks to Kirsty – and Minster maintenance guru Steve Rial – that HU17.net were able to capture Heidi in her full Tomb Raider outfit in the upper reaches of the Minster.
Lara isn't the only movie character Heidi portays, however, as she pursues her obsession with like-minded movie costuming fans. She is also well known on the costuming scene for portraying Trinity, from the Matrix films.
She explained to HU17.net what a kick she gets out her lifestyle.
"I was dressing up at an early age trying to be characters from my favourite films. I even had a dressing-up box.
"But the event that actually got me into costuming was when I was 18 and tried on someone's Trinity sunglasses and they said I was the spitting image of her.
"I ended up getting my hair cut and put the costume together. I haven't looked back since and have done many other costumes, including my most recent, Lara Croft.
"I guess I enjoy it so much because you get to be the characters you play and watch.
"Also, being part of the UK Garrison brings other reasons for costuming, like raising money for Make a Wish, NSPCC and Medicinema.
"We sometimes meet the children to grant wishes, like meeting meeting some of their favourite characters.
"The UK Garrison is a Star Wars costume group which also has a movie and game costume section, called Reel Icons.
"It is part of a worldwide group called the 501st, but the UK Garrison is known for its high standards (i.e. we have the toughest standards when clearing costumes; they need to be as accurate as possible)."
It's obvious Heidi has plenty of experience in modelling, especially in fantasy and sci-fi. Her poise and expressions captured the real essence of Lara Croft.
She continued: " I have been modelling since I was 17 and started out in alternative and gothic modelling.
"I met some contacts through friends and have done fantasy modelling for Chris Down and Paul Holroyd.
"I was spotted by Manga and asked to work for them as the official Motoko Kusanagi from Ghost in the Shell: Stand Alone Complex. The costume was custom made for me and it was an honour to portray one of my favourite characters.
"I attended the opening of the second feature film and some promotional events for them.
"I was then approached by (software company) Ubisoft and asked to portray Mama San from their game Red Steel on the Wii.
"As I had a history in martial arts I worked with them on a sword display on stage.
"In the future I hope to do more work with Chris Down and am working with Paul Holroyd on a new project which involves customised armour.
"I also recently met a few artists at an event who I am excited to work with."
Heidi recently moved to Beverley, where she also works, and after spotting an advert for a fashion show, signed up with Beautiful Freaks.
She is now part of a model agency specialising in local girls who are available for a whole host of different events and shoots.
Heidi said: "When I moved to Beverley I noticed an advert for a fashion show in the window of Fairy Godmothers and popped in to see if they needed models.
"I ended up modelling for Jan, who owns the shop, a number of times and of course when her daughter Kirsty started Beautiful Freaks I was eager to join.
"When I first moved up north the nearest modelling agency I could find was in Leeds. It's so nice to have a local agency to work with."
Links to pictures of Heidi and the UK Garrison.
Related Links
http://www.ukgarrison.co.uk/site/
http://www.chrisdown.co.uk/sitepages/p2/gall6/heidi.html
http://www.chrisdown.co.uk/sitepages/p2/gall3/panaceasnebulea.html
http://www.phphotoimages.co.uk/gallery_4473.html
http://www.manga.co.uk/titles/ghost-in-the-shell-sac-season-1
http://www.ubi.com/UK/Games/Info.aspx?pId=4553