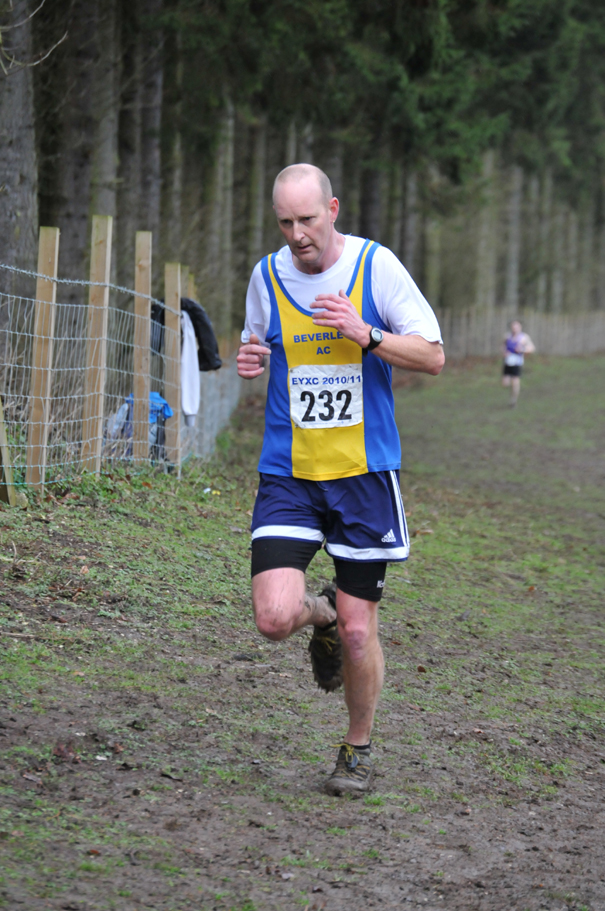 Welton Dale was the venue for the penultimate race in the 2010 / 2011 season of the East Yorkshire Cross-Country League.  With valuable team points at stake it was vital for clubs to field a strong team.
Scarborough and City of Hull have been leading the league but it was Beverley Athletic Club's men's team which finished first at Welton.
Having led his team home in all five races so far, it was a big bonus for Matt Chadwick to lead them to victory at Welton.  Chadwick has made a big impression in his first season with the club, concentrating on cross-country and running very consistently.  Roger Tomlin, James Pearson, Andy Johnson, Jim McGivern and Stuart Little made up the rest of the team.  They were all delighted with their win but with such strong adversaries as Scarborough and City of Hull Beverley still lie third overall in the league.
With one race to go Beverley's men's team is 100 points behind league leaders Scarborough and only 25 points behind City of Hull.  They have a fair chance of overtaking City of Hull but Scarborough seem unassailable.
In the ladies' competition Scarborough's Louise Brown was the first to finish.  She had a fantastic run and finished in fifth place overall in 34.39, only a few seconds behind Matt Chadwick.
Julie Donald was the first Beverley lady to finish.  She has made a big impact in her first cross-country season and will start next season's league with increased confidence gained from experience this year.  Sam Allen and Clare Bracken, both very experienced cross-country athletes, made up the Beverley ladies' team.
Beverley ladies finished in second place behind City of Hull mirroring their positions in the league overall.  After 5 races Beverley ladies are 42 points behind City of Hull and only 24 points ahead of Scarborough so the last race will see all three teams battling for the ladies' trophy.
New members Rachel Woolner and Justine Anderson competed in their first cross-country race for Beverley and after their baptism of mud at Welton they are looking forward to drier conditions in the next race.
There were 127 finishers and the race was won by Danny Schofield of Scarborough AC in 31.51.  The first lady to finish was Scarborough's Louise Brown in 34.39.
The final race in the league takes place at Sewerby on Sunday 6 March.
Beverley Athletic Club finishing times
Matt Chadwick 34.15; Roger Tomlin 35.02; James Pearson 35.24; Andy Johnson 36.18; Jim McGivern 37.37; Stuart Little 38.40; Ian Husband 39.19; Andy Tate 40.36; Alan Flint 41.04; Steve Williets 41.43; David Millson 42.35; Pete Watkinson 42.39; Julie Donald 44.13; Nigel Braithwaite 44.35; Sam Allen 45.11; Graham Pittaway 45.33; Clare Bracken 45.52; Carrie Smith 46.24; Bill Grieve 47.25; Jayne Dale 48.09; Francesca Giuntini 48.13; Pete Myers 48.21; Brian Richardson 48.50; Kate Ladell 49.02; Angie Collins 49.50; Adrian Holland 50.44; Rachel Woolner 50.48; Amanda Ritchie 51.37; Jo Dewar 52.02; Colin Sleight 52.44; Justine Anderson 54.01; Chris Hemingway 55.10; Pam Atkins 55.44; Jacqui Dickinson 58.40; Rachel Cope 63.27
Photos by Dave Gowans and Mike Atkins
HU17.net Picture Gallery: Click on the thumbnail picture below to enlarge the image to full size
HU17.net Picture Gallery: Click on the thumbnail picture below to enlarge the image to full size