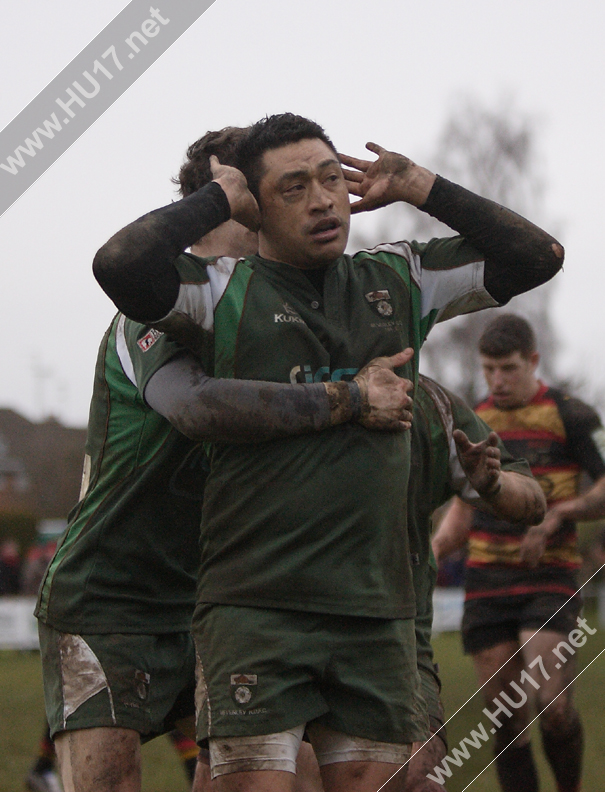 A pulsating match and a thrilling finish.  A Phil Dale penalty five minutes from time looked to have won it for Beverley but Bradford came back again at the very death to snatch victory with a last gasp penalty.
For half the match Bradford gave Beverley RUFC the run-around with some superb back play and it looked like Beverley were in for a mauling as the visitors cruised to an eighteen point lead in half an hour.  But it was a different matter in the second half when it was Beverley who turned it on and comprehensively outscored their opponents by three tries to one.
They started at a cracking pace but fell behind when Bradford winger Gavin Stead kicked a penalty on his side's first foray into Beverley territory.  Bradford are not the league's leading point scorers for nothing and they produced some of the slickest rugby seen at Beaver Park this season.  Only some gritty Beverley defending on their own line kept them out.  When Bradford did eventually break through it looked like the floodgates might open.  Several missed tackles in midfield let in Grant Litt for a try under the posts and five minutes later flanker Martin Mitchell found himself in acres of space out on the right to collect a cross-kick and add a second.  One conversion and another Stead penalty and the visitors were eighteen points clear.
At this stage things were not going Beverley's way.  Junior Tupai was yellow carded for picking up in a ruck, and a lovely run down the wing and chip ahead by Goran Jelencic bounced unkindly just when a score looked certain.  Eventually from a scrum on the visitors' 22 winger Glen Walden burst through on a clever angled run to cross for a try.  Dale converted and at 7-18 Beverley were back in business.
Not for the first time this season they looked a different proposition after the break.  This in despite of losing Jelencic following a heavy collision to be replaced by James McKay on the wing.  A number eight up against the lively Stead looked an ominous prospect.  But strangely in the second half we saw little of the dangerous Bradford backs.  It was Beverley who produced the sparkle with some exhilarating rugby.  Their forwards increasingly dominated the exchanges up front, several times marching their opponents back and generally having the better of things in the lineouts and the loose.
A quickly taken tapped penalty by Dale fifteen metres out led to a try after only four minutes as Beverley set about their recovery.  But a third penalty by Stead and a lucky interception on halfway, giving Richard Skull an easy try, again stretched the Bradford lead.  Beverley merely upped their game in response.  David Worrall made a nice break to send Tupai in under the posts and five minutes later the centre was on hand to round off a fine back move for another try.  Glen Walden again caught the eye with some spirited running down the wing and it was his galloping burst after being put away by Sam Atiola that gave Tupai his second try.  Dale converted the first but the second, which would have brought the scores level, drifted inches wide of the posts.
With five minutes remaining Beverley did get their reward for a fine second half when Bradford were penalised at a scrum and Dale kicked the penalty from wide out to put them one point ahead at 27-26.  It looked as though victory was secure as Beverley kept it tight and closed the game down.  Sadly they then inexplicably tried to run a ball from the back row at a scrum, were penalised for crossing, marched back ten metres for arguing, and promptly conceded a penalty in front of their posts leaving Stead with a simple kick to win it for the Bees.  Disappointment perhaps for Beverley at the ending but a great match nonetheless and at least for them two useful bonus points gained.
Reported by John Nursey
BEVERLEY 27   BRADFORD & BINGLEY 29
HU17.net Picture Gallery: Click on the thumbnail picture below to enlarge the image to full size
HU17.net Picture Gallery: Click on the thumbnail picture below to enlarge the image to full size