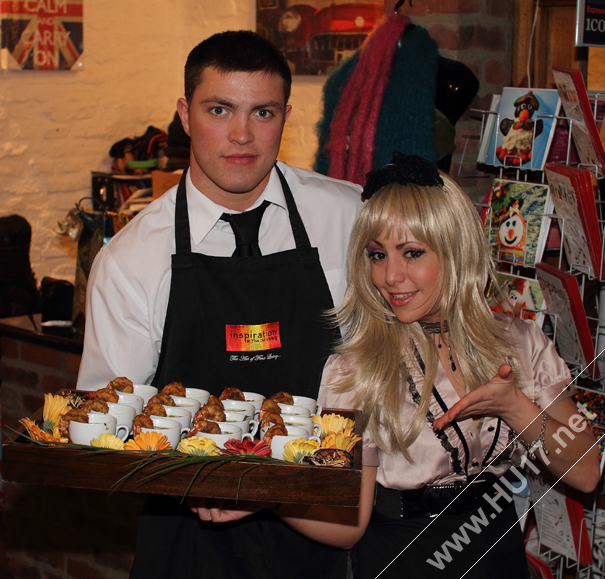 Inspiration on Vicar Lane, off North Bar Within Beverley, has finally been granted its planning permission to host exciting & cultural events, combining Neil & Mada Wharton's passion for food with their love of the arts & entertainment… and of course always with a twist.
A unique homeware store by day and a quirky private dining restaurant by night, Inspiration is now able to branch out & offer unusual & entertaining evenings. Their dream has been turned into reality allowing them full rein to proceed with their plans to create a buzz at this sleepy end of town.
Their first foray into spicing up a night out was the debut of their unique & personal take on a Murder Mystery Dinner, launching the first of many exciting ideas to come, namely Exotic Supper Club evenings for Food Lovers, Themed Vintage Movie Nights, Theatrical Events, & much more…
Last Saturday boasted a very glamorous & varied cast of diners, thanks to script writer & producer of the event Mr Philip Curran (lead singer of popular local rock band The Directors) in the honour of Sarah Mackey's birthday celebration… marking the first of many public & private ventures to come.
Set in 1963, the plot was that of a post Bafta Awards Ceremony Banquet hosted by Lord & Lady Molescroft, with many a turbulent twist & turn. All guests showed up in true form dressed up to the T. This is only one scenario of many that can be tailored to individual groups but unlike traditional Murder Mystery Dinners the emphasis is on the enjoyment of the social aspect & being in character and not the regimented reading of scripts etc, bringing you a simplified quirkier version, enhancing the fun elements.
The next events in the Inspiration calendar are planned for the first weekend in March. Kicking off the first Supper Club Evening will be "A Lebanese Extravaganza" when guests will be treated to a wealth of fabulous Lebanese cuisine, a real must for foodies. The evening will not only celebrate the food & drinks of Beirut, formerly known as the Paris of the Middle East, but is a chance to savour the music & culture of this extraordinary country, as well as including cooking demonstrations & recipes.
Also in Inspiration's exciting new agenda are Themed Vintage Movie Night Parties where guests will be treated to a red carpet affair including food and drinks from the chosen movie, a screening of the film, followed by an after party to match the era with plenty of fun & games. Movies under consideration are classics such as Goldfinger, Casablanca, Bugsy Malone, Grease, Moulin Rouge, The Godfather, Pulp Fiction, The Good, The Bad & The Ugly & many more…..
"What we want to do is bring a bit of fun with a twist to an evening out" say Neil & Mada "instead of just your usual pub/restaurant/cinema. We intend to blur the boundaries and bring together all the fun aspects combined with exotic foods into one great evening. We're in the business of the Extraordinary, not the Ordinary!!"
"We've had great success with our private dining restaurant, it's such a fantastic building and the ambience we've managed to create has been received with great enthusiasm, it's really shocked us how popular it has become and how quickly it has snowballed in the last 2 years!".
Neil & Mada operate a "Bring Your Own Bottle & relax and make yourself at home" policy and take their guests on a culinary journey around the world, serving exotic & exciting dishes as well as playing the music to match each course and going to great lengths to make the evening as personalised as possible.
For further information please contact Neil & Mada Wharton on 01482 888 088 / 07904 913 305 or email events@inspiration-beverley.com
HU17.net Picture Gallery: Click on the thumbnail picture below to enlarge the image to full size
HU17.net Picture Gallery: Click on the thumbnail picture below to enlarge the image to full size