Hodgsons gained sweet revenge against the only team to beat them this season in superb fashion.
Bransholme Athletic had beaten the tanners 4-3 in November, but there was to be no repeat this time round as the away side fired in 7 goals, with leading scorer Adam Foster bagging 4 for himself.
Hodgsons set about the game in a determined fashion, closing down the opposition quickly. Going forward Hodgsons looked dangerous against a rather dubious defence. Foster was on the score sheet after just 3 minutes, Cartwright doubled the tanners lead 5 minutes later with a fine lob courtesy of long punt up field by keeper Mike Morris.
Bransholme didn't create any clear cut chances, as the back four of Thorne, Wallis, Daniels and Robinson were outstanding.
Hodgsons walked in at half time 2 goals to the good.
The second half saw Bransholme come alive a little and they got there just rewards with a goal just 5 minutes into the second half. At 2-1 to the tanners it was game on, and just 1 minute after the re-start Danny Cartwright made it 3-1 with a fine solo effort.
What happened next was a crazy ten minute spell with which goals were flying in left, right and centre. Adam Foster rattled in 3 goals in the space of just 4 minutes to make the scoreline 6-1 before Bransholme pinched a 2nd goal to reduce the arrears.
Hodgsons FC 7th goal came from substitute Danny Atkinson who bravely stabbed the ball home whilst taking a 'kong fu' style kick in the ribs from the home keeper.
The home side had the final say with a 3rd goal just minutes from time.
Manager Lee Hastings said afterwards, "This was a fantastic 3 points, and keeps us firmly at the top of the league. The lads listened before the match at how important it was to stay tight and not allow the opposition time on the ball. They did just that."
Hodgsons Adam Foster moves well clear in the race for the golden boot. He has now scored 25 league goals in just 13 appearances, with North Caves Craig Cockin on 14 goals in 9 appearances.
Man of the Match – Karl Wallis, Hodgsons face Howden AFC this Saturday 29th January at the Ashes playing Fields, Howden. Kick Off 2pm.
Bransholme Athletic 3-7 Hodgsons FC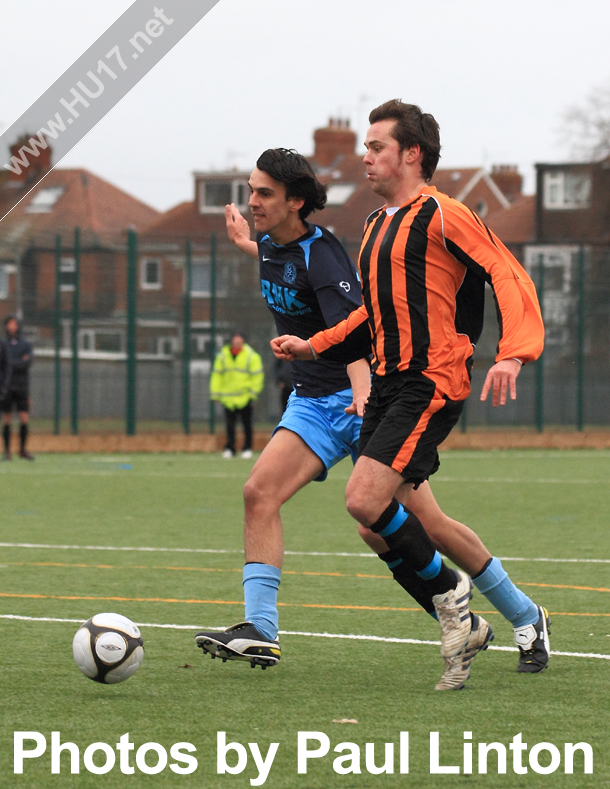 HU17.net Picture Gallery: Click on the thumbnail picture below to enlarge the image to full size
HU17.net Picture Gallery: Click on the thumbnail picture below to enlarge the image to full size