The Beverley Lions gave walkers from Meningitis UK a real boost this Sunday when they welcomed them to the Royal Oak in Beverley for a short rest and presented them with a cheque for £250.
The Autumn Walk is a regular fund-raising event for Meningitis UK.  Led by Steve Dayman, who lost a son to the disease some years ago, the entire walk stretches over 334 miles from Bridlington to Rottingdean near Brighton. Along with his fellow walker, Steve Fear, he hopes to complete this incredible journey on Saturday 17th October.
Steve Dayman has walked a total of 12,000 miles, half-way around the world, for Meningitis UK.  He will be joined by a variety of people for short stretches of the walk, including Alan Porter from the Beverley Lions, who accompanied the Steves from Hutton Cranswick to Beverley.  This is Alan's third walk for Meningitis UK.
David Merridan from Beverley joined the walkers for the next ten miles from the Royal Oak to North Cave. Mr Merridan lost his daughter Grace on the 2nd February 2010 to Meningoencephalitis, and he took part in the walk as a special way of remembering Grace on what would have been her 16th birthday.
Meningitis UK hope to raise £7million in total for their Search 4 A Vaccine Campaign to help fund cutting-edge research into producing a preventative vaccine to erradicate all forms of meningitis.  The Autumn Walk raised £44,000 last year, and Meningitis UK hope to beat that target this year.  £50,000 would fund the vaccine research project for a whole year.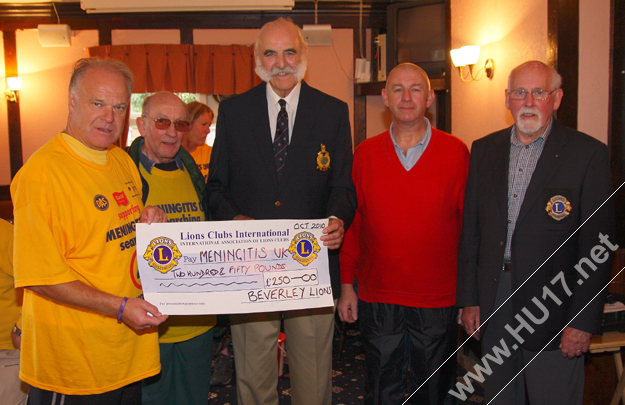 HU17.net Picture Gallery: Click on the thumbnail picture below to enlarge the image to full size
HU17.net Picture Gallery: Click on the thumbnail picture below to enlarge the image to full size