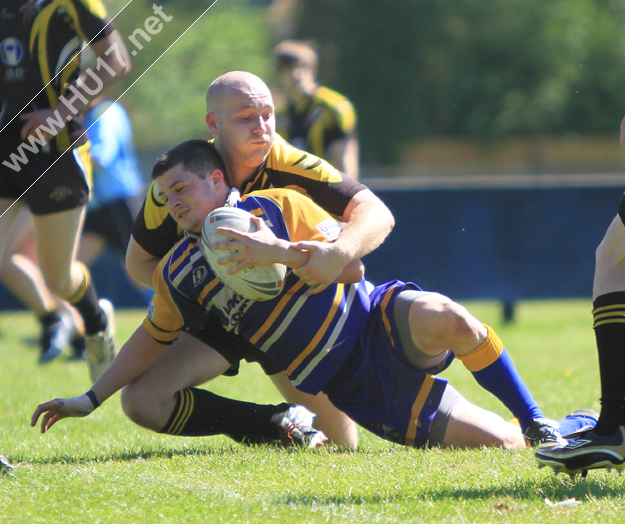 Beverley ARLFC's powerhouse pack laid the foundations for  their superb come-from-behind 28-18 Ray Speckman Cup final victory over rivals Cottingham Tigers at Haworth Park on Saturday.
In the build-up to the game,  blue and golds' coach Rich Shaw and captain Steve Davidson had talked about the need to muscle up in defence against a pacy Tigers' side, certain that if they could contain their opponents' powerful centres their big, bruising pack would be too much for Tigers to handle.
And so it proved as they stopped everything the Tigers could throw at them in the second half, coming back from 18-6 down at the interval to claim a superb victory that should be a springboard to further success.
In sweltering conditions and in front of a vocal travelling support, Beverley had heroes all over the pitch. Aaron Horsfield was brutal in defence as the powerful second-rower put in hit after crunching hit, along with prop Keith Paddock and fellow second-rower Paul Atkinson.
With the likes of Ian Lane and Mike Brown willing runners early in the tackle count, there was never a respite for the Tigers' defence. And with the well-judged spells of influential forward Aaron Clark from the bench, the blue and golds always had players capable of bursting through an ultimately out-gunned Tigers' defence.
But in conditions that tested everyone's fitness to the full, the efforts of two of Beverley's smaller players in particular really gave the pack breathing space.
Hooker Gavin Proctor scored two excellent second-half tries to turn the tide in Beverley's favour, showing a never-say-die spirit that epitomised Beverley's attitude. Even he, however, was overshadowed by a man-of-the-match performance from full-back Pete Newton.
Newton was everywhere. Early in the tackle count he would take the ball at dummy-half or first receiver, invariably making hard yards and giving invaluable breathing space to his forwards. He may have fumbled a kick through to gift the Tigers their third try, but his willingness to take on his opponents' pack and put his body on the line time after time was inspirational.
The early exchanges showed some of  Beverley's weaknesses. Straight from the kick-off, the Beverley defence failed to deal with it and gave away a drop-out under the posts. But fiery defence from the likes of John Kershaw and Craig Hancock ensured no points were gifted to the Tigers.
And more in-your-face defence forced the opening try. After an excellent defensive spell, Proctor's great run set up Lane to burst through under the posts, Davidson converting.
The Tigers responded well, and on 18 minutes, powerful back-rower Sean North capitalised on some great passing and movement from his side to storm through, with North converting his own try.
Cottingham missed an easy opportunity before they took the lead. With Beverley missing chances, Tigers' winger Nick Baines showed why he was so feared by the blue and golds' coaching staff as he outpaced the Beverley defence to score a virtuoso try from 60 yards out under the post, which North converted.
The writing looked as though it was on the wall for the local lads as they went 18-6 down nine minutes before the break. Newton made his only real mistake of the match when he fumbled a simple kick through, allowing Steve Johnson in for a simple try, again converted by North.
But the half-time team break did wonders for Beverley. They came out with renewed vigour for the second period and with sub Clark to the fore they simply blew away their opponents with a magnificently spirited performance.
A powerful run from Brown after just eight minutes of the second-period gave Beverley a great attacking position, and an excellent Davidson pass found Craig Hamlet for the winger to go in at the corner, Davidson failing to convert.
Newton again continued to take pressure off his pack, and one 30-yard run in particular gave his side great field position, even though he needed treatment in the process.
Soon after Beverley were right back in it. Mick Northen battered his way through the middle and his pass set up scrum-half Matt Bielby, who had a lot to do before scoring under the posts. Davidson converted and the momentum was with Beverley, although they still trailed 18-16.
The introduction of big prop Lee Stevens to cries of 'Lee-roy' from the Beverley fans brought even more fire to the blue and golds, and he and Clark started to puncture the confidence of the Tigers. Their discipline also started to go as Tim Nicholls was sin-binned for foul play.
With Cottingham down to 12 men, Clark showed what a valuable asset he is from the bench. He forced his way through the Tigers' defence and a superb offload fed Proctor for the first of his two tries, the hooker burrowing over under the posts for Davidson to convert.
Despite the heat, both sides continued to play attacking rugby. The Tigers knew they needed to get back in it at 22-18 down and threw everything at the Beverley defence, which started to concede penalties with the pressure mounting.
However their goal-line defence held strong. Kershaw, Hamlet, Hancock and Lee Falcus put their bodies on the line and with the considerable efforts of Horsfield, Lane and Clark they held firm.
The defensive efforts were soon rewarded as a superb team-try sealed victory. Great handling from Clark and Davidson sent Hancock bursting through, and he found the ever-willing Proctor in support, who jinked through the Tigers' defence to score under the posts. Davidson converted and the game was won.
But the match ended on a sour note. Hancock, who had given his all, again made a storming run and looked as though he was going in for another try. However, he went down heavily under the tackle, suffered a badly-broken leg and needed help from paramedics. The Beverley coaching staff deserve credit for how they dealt with him.
It took the edge of a magnificent win, but when the blue and golds take time out to reflect, they will realise that Hancock played his part in a magnificent win, and his injury should not detract from a performance which did rugby league in the town proud.
HU17.net man of the match: Pete Newton. Fumbled a kick to gift Cottingham a try, but his willingness to take the ball up, put his body on the line and make hard yards edged meant he fully deserved the award.
Teams – Beverley ARLFC: Pete Newton, Craig Hamlet, Craig Hancock, John Kershaw, Lee Falcus, Steve Davidson, Matt Bielby, Mike Brown, Gavin Proctor, Keith Paddock, Aaron Horsfield, Paul Atkinson, Ian Lane. Subs: Ian Pollard, Mike Northen, Lee Stevens, Aaron Clark.
Cottingham: Chris Peach, Nick Baines, Gary Sutton, Miles Flanagan, Luke Bowering, Steve Johnson, Matty Burrows, Tim Nicholas, James Shaw, Rob Welburn, Chris Penrose, Bri Coulson, Sean North. Subs: Connor Threash, Shane Butcher, Joel Dunne, Lee Welburn.
HU17.net Picture Gallery: Click on the thumbnail picture below to enlarge the image to full size
HU17.net Picture Gallery: Click on the thumbnail picture below to enlarge the image to full size