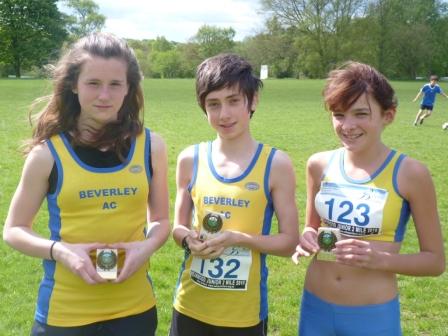 Beverley Athletic Club Juniors put in a strong team to compete in the Meanwood Valley Trail Races in Leeds on Saturday 15 May.   Organised by Valley Striders, this event is always very popular with prizes being awarded in different age categories.
The overall winner of the 2 mile course for competitors aged between 11 and 16 was Ethan Dalton.  Ethan was awarded first prize in the 13-14 age group with team mate Curtis Arnott taking third prize.
Nicole Dawson was first home in the 13-14 girls race and Kendall Arnott (enjoying the somewhat shorter distance than she has been competing at lately!) took the prize for first 15-16 girl.
Other Beverley juniors competing in the 2 mile event were:
11-12 boys:
Alex Park 2nd, Edward Prew 3rd, Tom Ottoway 4th
11-12 girls:
Dayna Arnott 2nd, Jessica Chapman 4th, Kelly Dawson 6th, Lauryn Garwood 14th, Francesca Brittain 16th
The shorter 1 mile course for children aged between 7 and 10 saw Luke Chapman finishing 4th, Oliver Cockerill 6th and Taylor Arnott 12th in the age 9-10 group.
Photo by Anne Dalton of Beverley Athletic Club