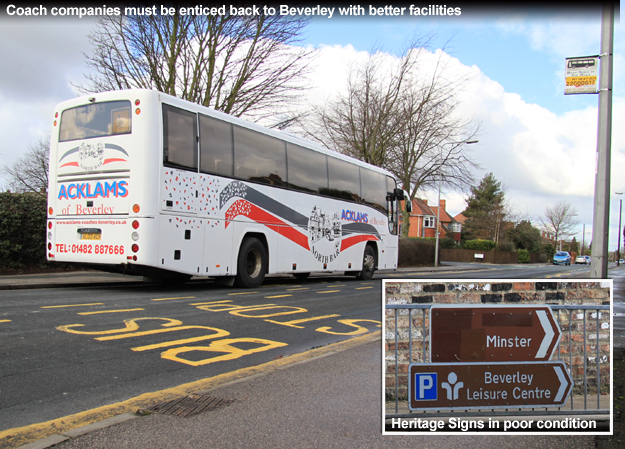 The Beverley Economy & Tourism Group has indentified and is creating five focus groups to tackle each of the niche issues highlighted. The group, which is made up of a number of people from the business, tourism, local council, sports clubs and event management organisations.
Creative Industries Business + Retail Space
Co-ordination of town marketing / Visitor offer
Events & Festivals
Heroes Welcome Initiative
Coach Parking
Heritage Signs 'Brown Signs' are to come under the spot light, although costly it is widely felt that the standard of the current Heritage Signs and the location of them need to be evaluated before addressing the issue of funding.
The issue of parking is a key problem for coach companies who arrange tours to Beverley. It is felt that the poor facilities offered are driving away possible tourism tours to Beverley. With coaches unable to use the bus station, the train station or the former army transport museum site.
Heroes Welcome, a scheme that currently is running successfully in the Scarborough will invite retailers and service providers in Beverley to provide discounts to families of the armed forces. The scheme will raise the profile of Beverley and help attract more people into the town centre from surround military establishments.
With the number of events held in Beverley it is hoped the Beverley Economy & Tourism Group will draw organisers together to prevent any over lapping of key events hosted in Beverley.
Last year, Beverley hosted many large events that drew thousands of people into the town centre, these events included, The Beverley Food Festival, The Festival of Christmas and National Elite Circuit Race Championships.
Business and retail space are to be explored too; the lack of commercial office space and affordable start up units was highlighted as possible problem for the town's economic growth.