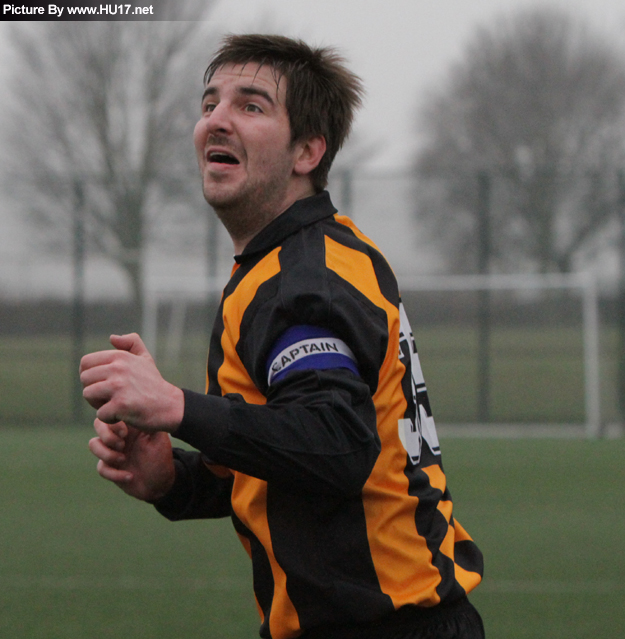 Hodgsons FC progressed to the Semi-Finals of the East Riding Country Cup after an excellent two nil win over Scarborough and District side Filey Town FC. Pre-match the talk was very much about the new nickname adopted by Hodgsons FC FC, the 'Tanners'. Arriving from the former Hodgsons FC Tannery which was situated in Beverley in 1812.
The Tanners started this game in a bullish mood, opting to attack from the start. The ball over the top was causing problems for the Filey Town back line, as Adam Foster continued harrasing them with his pace.
An early blow for Hodgsons FC saw Steve Grantham hobble from the pitch after a mistimed tackle on his ankle. A quick re-jig saw Jordan Dexter come on as his replacement and he swopped places with forward Scott-Jon Tyler.
The first half looked very much a stalemate, with both teams coming close. But on 44 mins, Adam Foster broke the deadlock. He gathered a through ball in his stride, cut into the box and fired the ball home past the keepers near side post.
With minutes remaining until half time Filey Town created an attack out of nothing, a Filey player made his way into the penalty area and was felled by Scott-Jon Tyler. The referee waved play on to the amazement of the away support.
Half Time 1-0
The second half was sure to be a spicey affair, and within 10 minutes this was proved.
Danny Cartwright made a tackle and then he was stamped upon seconds after by the Filey captain. With the players crowding around each other and arms waving about, defender Ben Daniels made his presence known and vented his feelings towards the opposition. Daniels saw a straight red along with the Filey skipper for the stamp, and amazingly Cartwright received a yellow card.
Both sides were now reduced to 10 men for the remaining 35 minutes of the match.
The game began to open up alot more and it was Hodgsons FC who had the better chances. Cartwright was making ground with the ball, causing so many problems for Filey, they didn't know how to handle him.
By now players were struggling on both sides, and cramp was setting in. Goal scorer Foster made way for John Helyard who tightened up things in the middle of the park.
As the game was reaching the last 10 minutes, it was wing wizard Cartwright who finished Filey off with a sublime chip over the keeper.
Afterwards Club Chairman Lee Hastings said, "To reach the semi-finals of this cup is a fantastic achievement. Especially after the poor result last week. I look forward to seeing who we will play in the last four. But most importantly lets get back to winning ways in the league."
Man of the Match-Chris Heath