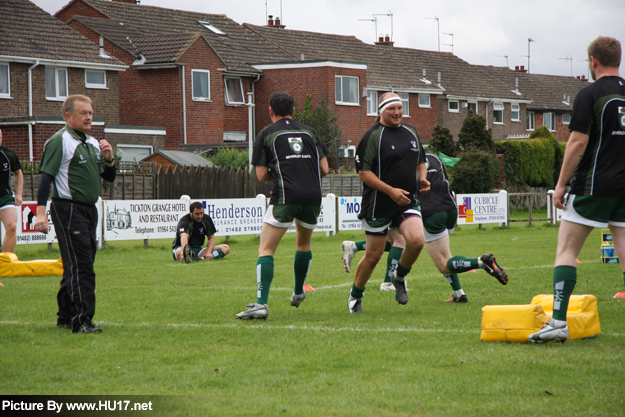 Beverley RUFC entertain Sheffield Tigers this Saturday in a National League 3 North match at Beaver Park (kick off 3 p.m.). Over the past few years Tigers have risen up the leagues, overtaking their neighbours Sheffield to become the undisputed "top dogs" of South Yorkshire.
They narrowly missed out to Hull RUFC on reaching the playoffs last season and are sure to provide formidable opposition to the Beavers on Saturday.
For their part, after a bright start to the season, injuries to key players have exposed the thinness of the Beavers' squad and, in the last couple of matches, they have been lacking the earlier spark in one or two areas. This was never more apparent than last weekend at Darlington when, having taken an early five point lead, they then went to sleep for 15 minutes allowing Darlington to run up 21 points without reply. Beverley then clawed their way back level playing some excellent rugby on the way, only to allow Darlington two scores in the last few minutes to end up 21-36 losers in what was, in actual fact a close and entertaining game.
Club Development Officer Barrie Pearce and the coaching panel of James McKay, Junior Tupai and skipper Dave Worrall are working on the areas causing concern in the mid-week training sessions but as Barrie Pearce said this week, "It is only possible to do so much on Tuesday and Thursday nights. The weather on Tuesday was atrocious for one thing and the floodlighting on the training area badly needs upgrading. In addition it is necessary for all players to attend in order to iron out the problems and with injuries, work and other commitments, that is not always possible. Nonetheless, we know what we need to do and we are not far away."
This week it is hoped that Goran Jelencic will have recovered from the knock he took last week and Vinnie Collingwood will return to the opposite wing.
This week's match is sponsored by Excel Laminating Services Ltd
Beverley 1st XV v Sheffield Tigers (home) Kick-off 3.p.m.
From :- R.Bussey, M.Kilgannon, J.Barnes, G.Jelencic, J.Gardiner, P.Dale, P.Duboulay, V.Collingwood, I.Archibald, M.Hatfield, M.Shaw, A.Meagher, F.Pickering, M.Adams, G.Gibson, D.Worrall (capt), D.Hodgson, A,Riby-French, J.Mckay, D.Brant.
Beverley 2nd XV are away to Goole and Beverley Bandits are at home to Hull. Both teams will be selected after training on Thursday night. They will appear on the club's website and meet at the clubhouse at 1.30 p.m.