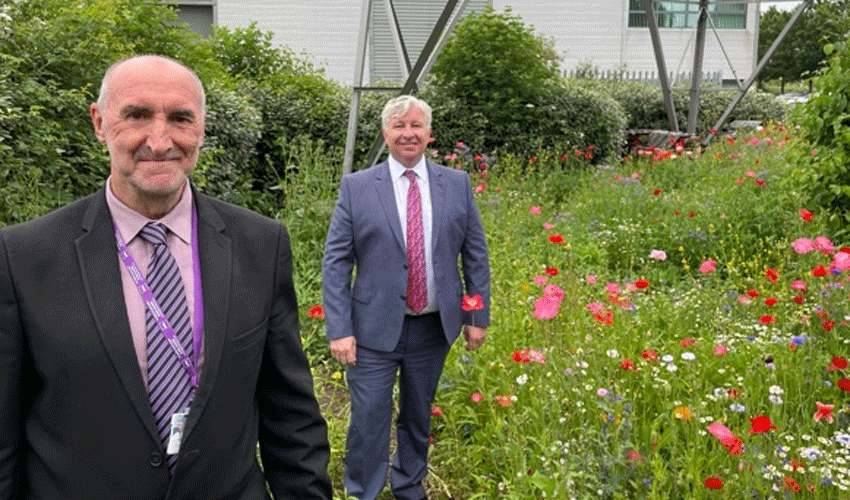 As part of an ongoing environmental project to reduce carbon emissions, a local business has planted a wildlife area, transforming an unused spot of land at their head office premises.
A dedicated team of environmentalists at KWL, based on Kingswood are leading on this project as part of a grander scheme.
A patch of ground within the car park was overgrown with weeds and now the once-abandoned space underneath the pylon has been transformed into a secluded wildlife haven. Wildflowers now thrive, attracting bees, butterflies, and other essential bugs.
A number of staff have prepared the space and planted it up. In addition, they have built and installed bug houses made out of recycled materials that would otherwise have been sent for disposal.
Roger Grannon is the Chief Operating Officer at KWL. He explains:
"Our little wildlife area is a sight to behold. The wildflowers have really taken well to the area and they attract an increasing number of bees to a place where previously, bees would rarely be seen at all.
"Pollinators are essential to life on earth – they really need our help and this is so simple to achieve. The cost to the business has been minimal; a few hours to clear and prepare the ground and to build the bug houses, but the payback to the environment is much bigger, as vital pollinators have taken up this invitation to our premises, hopefully for many years to come.
"This initiative is part of a broader project to become a net-zero carbon organisation, with KWL initiatives and company-wide enthusiasm to achieve ambitious targets.
"We see ourselves as one of the forerunners of business in protecting the local environment. Our environmental policy and action plan are aligned with Hull City Council's Climate Strategy.
"There are quite a lot of actions within their strategy that KWL is feeding into. One of these is the Council's vehicle fleet which is managed by KWL. We are gradually replacing vehicles with electric and hybrid, vans and trucks, etc.
"With the Investors in the Environment (IIE) accreditation scheme, we have maintained the Green Level Award since 2015, and employees are encouraged to suggest ways to reduce our negative impacts on the environment.
"The UK target for net-zero greenhouse gas by 2050 won't happen on its own. We all have a part to play, as the government said; a moral obligation to leave the planet in a better condition than we inherited.
"At KWL, from Directors through to the frontline workers, everyone is on board with the environmental challenge. I hope that KWL is viewed as a positive example to other businesses in our sector and the Humber Region by demonstrating that making decisions about how a business can improve environmentally, doesn't have to cost the earth."