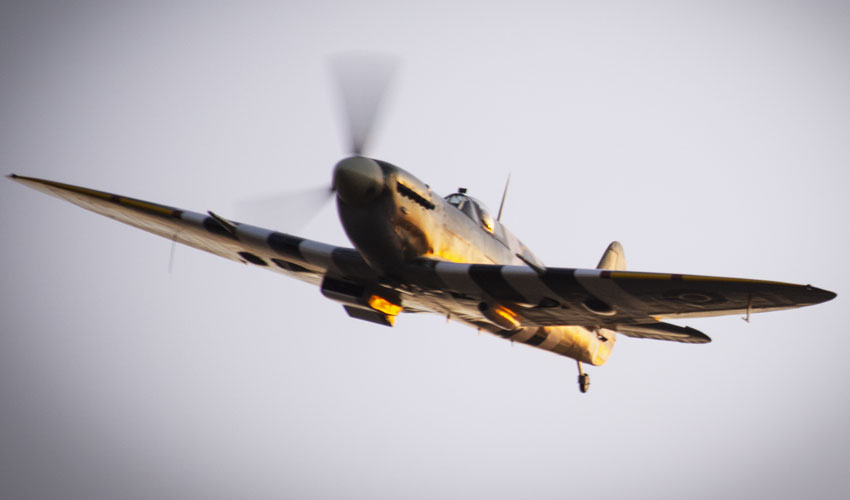 Residents will have a chance to catch a glimpse of an iconic WWII aircraft. On Thursday 10 September the Defence School of Transport will be commemorating the 80th anniversary of the Battle of Britain.
Part of those events will see a Spitfire perform a flypast as part of the scaled-down commemoration. Military and civilian staff at the Defence School of Transport, Leconfield mark the occasion annually.
However, this year the scaled-down and the socially distanced event will include a sunset ceremony parade and flypast from the Battle of Britain Memorial Flight.
Local residents that want to hear the roar of the Merlin engine and see the majesty of the Supermarine Spitfire in flight, look towards the skies above Leconfield at 1841 hrs on the 10 September to catch a glimpse of this much-celebrated aircraft.
For over 100 years the Royal Air Force has defended British skies. Eighty years ago, it experienced its greatest test in the Battle of Britain.
Using science, ingenuity and support from airmen across the UK and overseas, the RAF defended the UK from Germany's Luftwaffe.
It was the first major battle to be fought entirely in the air, and Germany's first major military defeat! By the summer of 1940, much of Europe had fallen to Nazi Germany but the British government refused to make peace with Hitler.
In the country's darkest hour, millions of ordinary men and women played vital roles as Air Raid wardens, Firefighters and members of the Home guard.
This enabled thousands to work in aircraft factories building some 2,000 Hurricanes and Spitfires needed for the ensuing Battle.
When the battle arrived, the RAF consisted of an aircrew of some 2,945 made up of volunteers from 13 different nations, some of whom had battle experience against the Luftwaffe in their own air forces. This international force became known as 'The Few'.
The bravery and sacrifice of RAF aircrew were matched by the ceaseless effort and devotion of RAF ground crew. RAF engineers, mechanics, drivers, and armourers as well as countless others on the ground, toiled day and night to keep the RAF ready for battle.
At the height of the battle, the RAF were greatly outnumbered and had only 749 fighter aircraft available, against some 2,500 Luftwaffe aircraft. The Battle of Britain was an international victory.
Aviators from across occupied Europe, the Commonwealth, and the wider world flew for the RAF. Roughly a fifth were not British aviators. The average age of a pilot was 20 years old, training time for a new fighter pilot was just two weeks and 544 members of the few were killed during the battle.
Spitfire – A Remarkable Documentary