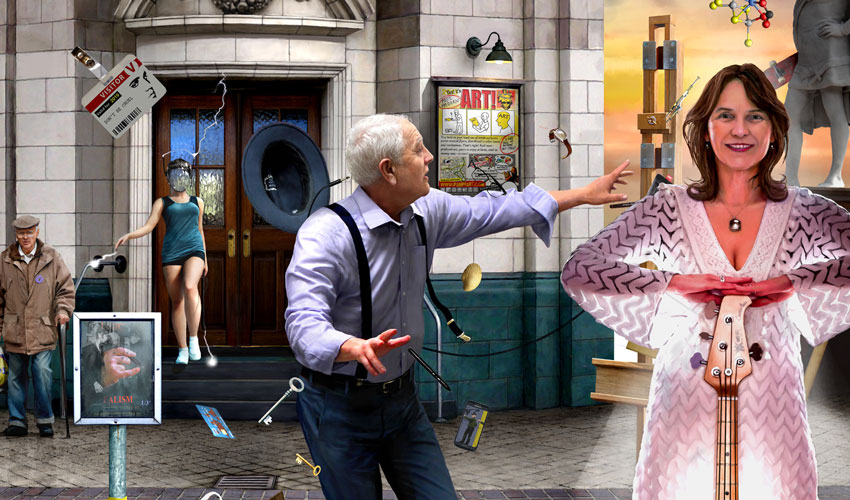 Loudhailer Electric Company introduces its premiere live stream show on Friday 21 August at 20.00 – 21.00 BST with SLS Live.
The show will launch new music and art collaboration 'Dreamscape (When I Get Home)' as well as a set of live favourites from the band's back catalogue of studio albums and new release NEXUS.
Dreamscape combines the fascinating surreal art montage film by G E Saunt with a live soundtrack by the band.
Loudhailer Electric Company guitarist Richard Duffy-Howard explained:
"The artworks of G E Saunt could almost be photographic, but they are paintings. Familiar yet strange they incorporate the historic and the contemporary, the real and the surreal."
"Our music tells a story to accompany the images. Imagine you've been away, you come back to Hull, step off the train and look around. Everything is slightly different than you remember it. Surely the City Hall isn't opposite the station? Has that shark escaped from The Deep? And was that Elvis walking past the Tower? Is it a dream, or is it real?"
Original psychedelic sounds featuring members of seminal cult bands Red Guitars, Dead Fingers Talk and The Planet Wilson.
Loudhailer Electric Company is a new band with a big history in the post-punk psychedelic and original Indie scene, featuring ex-members of seminal bands Red Guitars, Dead Fingers Talk and The Planet Wilson. The band are making waves with their new release NEXUS, their third collection of songs, preceded by studio albums Cursus and Morpheus.
Loudhailer Electric Company songwriter and vocalist Lou Duffy-Howard had Indie chart-topping success with the influential indie band Red Guitars, best known for No. 1 single Good Technology and Independent album Slow to Fade, before releasing two albums on Virgin Records.
Guitarist Jeff Parsons pioneered gritty post-punk psychedelia with trendsetters Dead Fingers Talk whose album – Storm the Reality Studios – was produced by the great Hull-born Spiders from Mars guitarist, Mick Ronson for Pye Records.
The line-up is completed by spoken word poetry wordsmith Richard Duffy-Howard and drummer Rich Walker.
G E Saunt is a prolific painter and visual entertainer, having produced hundreds of paintings using digital technology. Gary explains:
"Much of my work takes the form of a cultural pilgrimage from Beverley to Hull with a vivid and compelling 'dreamscape' that incorporates the familiar and the strange, the historic and the contemporary, the real and the surreal."
"Perhaps we could try re-attaching ancient myths to our daily lives. Perhaps our eyes should choose more – linger on symbolism more than be fed rolling news. Perhaps we already live in waking dreamscapes – but not our own."
Band vocalist Lou Duffy-Howard said:
"We are thrilled to unveil our new show on SLS's live stream channel. Like many people, we've missed live music so much but SLS has provided the answer where we can showcase the fascinating art of G E Saunt to our live soundtrack."
"We'll be playing some favourite tracks from our back catalogue too, so come and join us on the 21st, we're ready to have a party!"
All you need to do is get your ticket, visit the website, sit down in the comfort of your own home and relax. Tickets are £6 from https://www.soundlightstage.com/loudhailer/