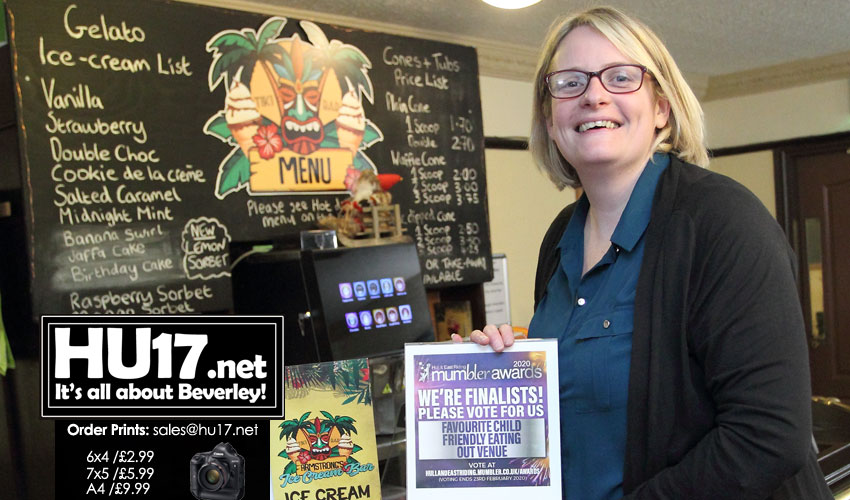 Ice-Cream Tiki Bar in Beverley has been shortlisted in Mumbler Awards. Based at Armstrongs Social Club the Ice-Cream Tiki Bar has been named a finalist in the 'Favourite Child-Friendly Eating Out Venue.'
Manager of Armstrongs, Sally-Ann Rena says she is over the moon to make the final. While she also expressed her thanks to all those who took time to vote for them in the poll.
Commenting on the news Sally said;
"I would like to thank everyone who took the time to nominate us in the past few weeks. We are really over the moon we have managed to get shortlisted for this fantastic award."
"The team at Armstrong's since opening the Ice-Cream Bar have worked really hard and we have been committed to getting to know the families and customers that have visited."
"My team try to create a warm, friendly environment for families. We have especially loved getting to know all the children and seeing how much they enjoy coming over the past 7 months since we opened the Ice-Cream Tiki Bar."
Ice-Cream Tiki Bar Joined By Four Others In Final
Sally-Ann is now hoping more people will take the time to go and vote for them. They will be up against Home Farm, Manor Farm, the Millhouse and Smile Cafe.
They will have to wait until March to find out if they have won, but to reach the final is a huge achievement.
She added;
"We have been overwhelmed by the feedback and great comments. Also, I would like to say an advance thank you to anyone that manages to vote for us. We are looking forward to finding out the results."
Other Child-Friendly places from Beverley that have also been shortlisted for an award include Bundles of Joy, Music With Mummy and My Baby Can Dance.
The Mumbler Awards celebrate the very best of child-friendly offerings within the Hull and the East Riding of Yorkshire. In all, over 10,000 people voted for their favourite family-friendly things in five different categories.
It will now go back out to the public to vote for their winners. Votes can be cast until 23 February online by visiting https://hullandeastriding.mumbler.co.uk/awards/shortlist-vote/