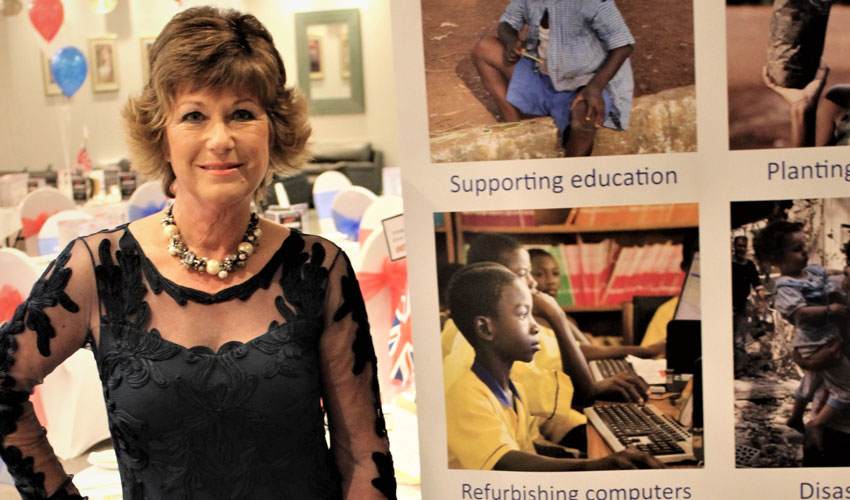 For the 4th year running Bridget Conroy has organised a Charity Ball at Lazaat. The was set up to raise funds for Jacob's Well Appeal, a Beverley based Charity.
Jacob's Well is well known for their work in the area which sends medical, agricultural & educational aid to the poorest people in the World.
Commenting on the event Bridget said;
"We are very grateful to all the individuals & companies who donated some amazing raffle prizes and Silent auction prizes. While we are also grateful to all those who attended the event to make it a great success."
"Furthermore, we are extremely grateful to Naveed and the Staff of Lazaat for donating the food, venue and staff for the 3rd year running."
"Their generosity will enable the Charity to increase the amount of money raised. JW would like to thank them for all their support and the backing they give to other local charities."
"Lazaat is a lovely venue for all sorts of special occasions and functions with restaurant and hotel rooms at very reasonable rates."
This year has been a very busy, exciting year for JW. By the end of 2019, Jacob's Well will have shipped out 10 x 40 Foot Containers with aid worth about £3.5m and at a cost to ship of £65k. Most of these donations would otherwise have ended up in a landfill.
These loads have gone to places including Ghana, Burkina Faso, the Gambia, Moldova, Uganda and Sierra Leone.
The Containers contained Medical supplies, hospital equipment, educational items, agricultural equipment including two donated tractors. They have also shipped out gift-boxes for the poor children, clothes, blankets and they even shipped a Coach very kindly donated by Aklams of Beverley.
Jacob's Well Has Number Of On-Going Projects
There are several ongoing agricultural projects in Ghana and Burkina Faso. Projects being undertaken include fruit tree plantations, boreholes, seed banks and dry season farming.
These initiatives will help the poorest communities to grow their own nutritious food all year round.
They have funded the building of a House for abandoned boys at the ABC School they partner in Burkina Faso.
They are also funding two operating theatres to be built onto the maternity hospital they helped to build last year in Burkina Faso.
Bridget added;
"At home, we also help the Homeless, Poor, Refugees and anyone in dire need. We are always looking for more volunteers to cope with the volume of donations we receive daily."
"Like all charities, we are always grateful for donations of goods and money."
If you are interested, then please contact Bridget Conroy on 01482 881162 you can also email office@jacobswellappeal.org