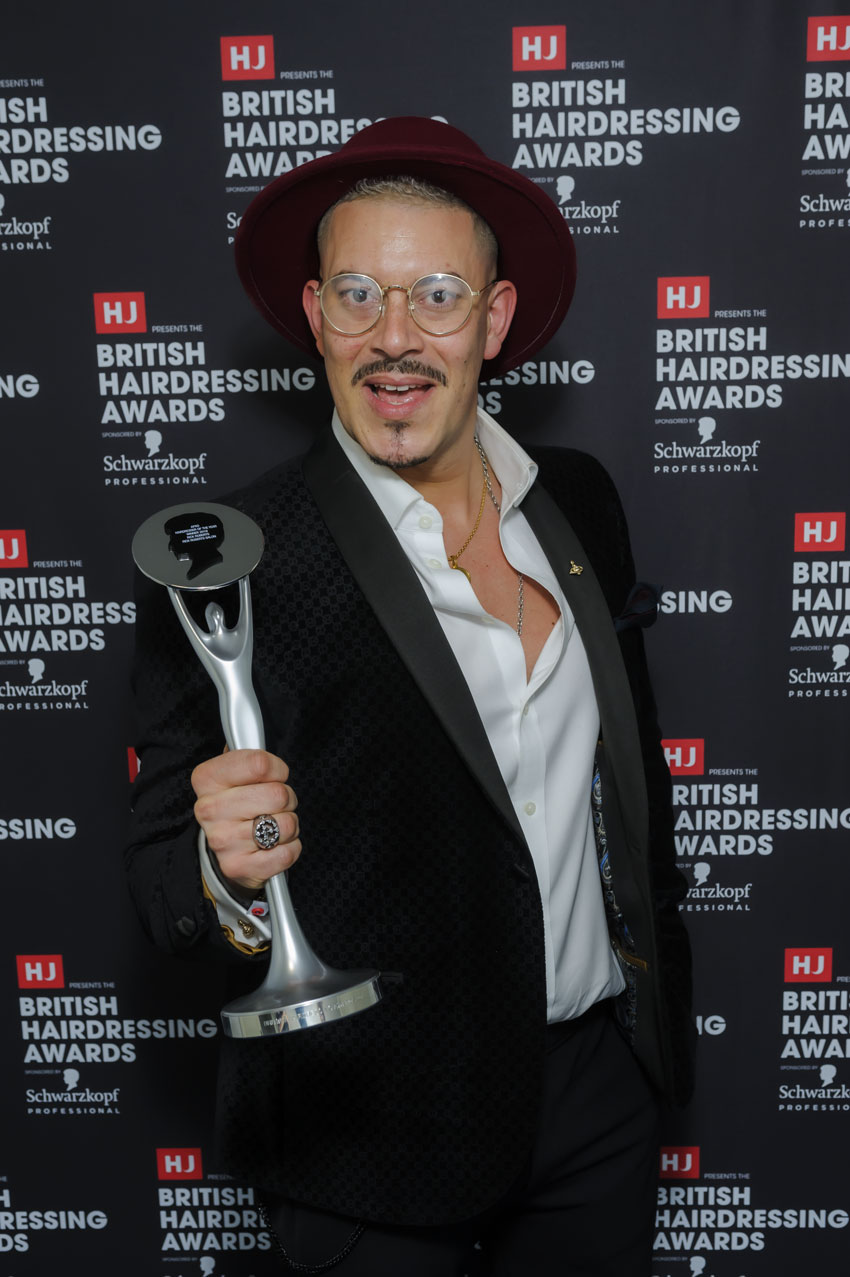 East Riding of Yorkshire is one of the best regions in the UK for stand out hairstyling, after two men picked up awards for hairdressing talent.
Alexander Turnbull from Hull was named North Eastern Hairdresser of the Year at HJ's renowned British Hairdressing Awards 2019, sponsored by Schwarzkopf Professional.
Also joining this elite group of winners was Rick Roberts from Beverley, who was crowned Afro Hairdresser of the Year.
The stylists from Alexander Hair & Beauty salon in Anlaby, and Rick Roberts Salon on Flemingate in Beverley, each beat five other finalists in their respective categories to triumph in the prestigious awards, dubbed the 'Oscars' of the hair world.
Alexander Turnbull gained his North Eastern Hairdresser of the Year win after rising to the top of a huge catchment category of ten English regions covering: Cleveland, Durham, East Riding of Yorkshire,
Kingston upon Hull, Northumberland, North Lincolnshire, North East Lincolnshire, North Yorkshire, South Yorkshire, and Tyne & Wear. Rick Roberts was the only finalist outside of London in his category of six finalists and triumphed to claim the Afro title for the north.
Both men received their best in UK accolades after they submitted phenomenal photographs of original hair work demonstrating not only technical skill, but also creative vision and comprehension of current trends.
Going through vigorous judging before being rewarded for their skill, Alexander and Rick were required to submit a collection of eight images and this photographic work was judged twice by a panel of hairdressing legends, leading national beauty press, and Hall of Fame members (those who have won the same British Hairdressing Awards category on three occasions).
The successful hairdressers received their coveted titles at the Grosvenor House, a J W Marriott Hotel in London, in front of a 1,750 strong audience of hairdressing peers, influencers and press. Celebrity host for the evening was TV personality Rylan Clark-Neal, who was joined by Hairdressers Journal International's Executive Director, Jayne Lewis-Orr and Schwarzkopf Professional's General Manager Julian Crane.
Now in their 34th year, HJ's British Hairdressing Awards celebrate the people producing the very best hairdressing work across England, Northern Ireland, Scotland and Wales. Alexander and Rick's prizes were part of an 18-trophy line-up of ten regional and eight specialist awards, including two new categories of International Collection of the Year and Trend Image of the Year. The ultimate accolade of British Hairdresser of the Year was won by Leeds stylist Robert Eaton from Russell Eaton Hair. After the dazzling ceremony guests were treated to a performance by The Hoosiers with their hits Goodbye Mr A and Something About Ray.
Commenting on the win, Jayne Lewis-Orr, Executive Director of HJ's British Hairdressing Awards said;
"Alexander's recognition for North Eastern Hairdresser of the Year is truly deserved. He has claimed the top spot in a fiercely contended category – not only because of its wide geographic base but also because of its home to many strong hairdressing names. However, Alexander's imaginative hair work made us stop and take notice.
"Rick beat incredible talent from the capital. He was also a finalist in the North Eastern category as well this year and should be very proud of his all-round excellence. The Afro hair market is growing all the time and we're excited that this category celebrates the Afro experts at the top of their game.
"The calibre of British hairdressing is known the world over, and Alexander and Rick continue to show that excellence and creativity are still at the heart of UK styling. Warmest congratulations to them both for demonstrating fantastic technical dexterity, and for being such great ambassadors for our industry."
Alexander was delighted to win and said: "The talent in this category was very strong and so I'm thrilled to do so well. I love everything about working with hair – it's vibrant, artistic and brings so many opportunities. I'm privileged to be part of this incredible industry."
Whilst Rick commented:
"It's taken me seven years to get this award. Thank you to all the people who made this dream become a reality, especially the talented Richard Miles for shooting my amazing collection, and my beautiful wife Zoe who's my rock. This is for my two sons, one of whom in particular has been through a lot this year. This award is for him."
"Sponsoring HJ's British Hairdressing Awards is an enormous privilege," says Julian Crane, Schwarzkopf Professional General Manager UK and Ireland. "We are delighted to join with Hairdressers Journal International to recognise the very best in UK hair talent. Hairdressing is an industry of endless creativity and the breadth of ideas in this year's awards was outstanding. I am absolutely delighted for the winners and they should be so proud of how they represent the pinnacle of skill in our industry."
The British Hairdressing Awards have launched the careers of a host of household names: from John Frieda and Nicky Clarke, to TV stylists Lisa Shepherd and Andrew Barton.