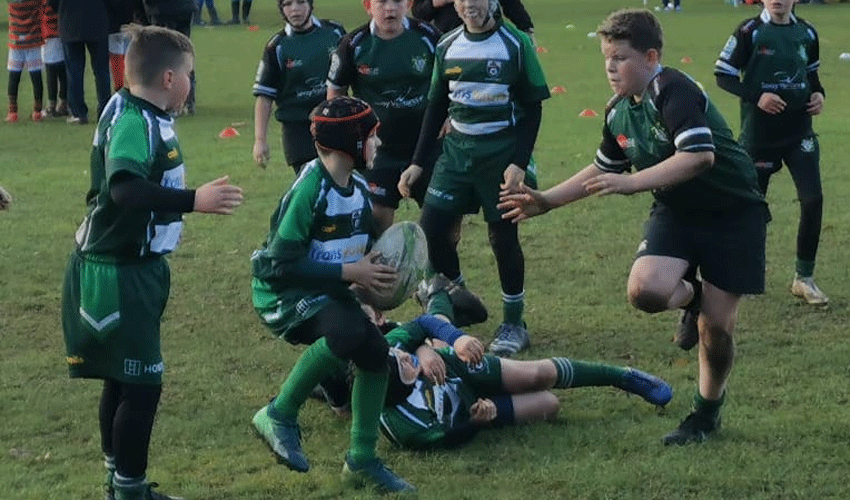 After a week of torrential rain, Hull Ionians were able to put on their festival albeit having to use all the space they had to ensure that matches could take place, closing off the lowest-lying pitches at the far end of the ground due to standing water.
Beverley U11s turned up with a full-strength squad of 11 for the 9-a-side matches. After the changes to the layout due to the waterlogging, pitches were made smaller and teams played 7-a-side matches which impacted on the way the games played out.
First up was Wetherby B, who had already had a match to find their game. The game started well for both teams at a fast pace but Beverley started the stronger with some good technical attack rucking, looking after the ball. Wetherby also made good use of the ball once they got it, and got up near the Beverley line only to be held up by a good Beverley defence.
After some committed tackling by Joel Hardy and Will Aston, a strong tackle in the midfield by Will Aspin ripping the ball in the process resulted in a run towards the line, an offload in the tackle then resulted in a try for Beverley with James Hebb taking it over. After Beverley had a 2nd try disallowed, they conceded a breakaway try to Even things up at the break.
After half time Wetherby stole a lead after good Beverley play, starting to get into their rhythm, though then followed a Beverley response from Alex Gorman breaking through a strong defence to even things up once again.
Wetherby then got a series of scrums after Beverley ball handling difficulties in the conditions. This meant that with 4 players tied up in the scrum there were a few more gaps in the confined space and Wetherby scored twice in quick succession.
A penalty to Beverley after a high tackle ended up with Alex Gorman ball in hand running in to secure another try but in the end, Wetherby Stole a late victory despite valiant efforts by Ozzie Marshall tackling opposition players twice his size. A game played with great heart and spirit by both sides.
Against Market Rasen in the 2nd game, there was a similar theme, a good start followed by an arm wrestle between two sides trying to get on top. After Alex Gorman picked up the ball on the touchline, an audacious no-look pass before it crossed touch (much to Coach's horror) was picked up by Will Aspin who ran a straight line through attempted tackles to score. Good defending near Beverley's try line resulted in an intercept and try from Gorman, running the length of the pitch.
After half-time, a familiar story, some missed tackles against a physical Market Rasen team led to a series of quick tries, but then another breakaway try from Will Aston after some good pressure and defending by Freddie Walton, Charlie Topham and Jack Watts in the centre evened up the scores.
Unfortunately, after a succession of Beverley injuries picked up in the many bruising encounters, Market Rasen ran out winners with a couple of late trys.
Beaten by a good team was the thought but Beverley took them close.
Finally Scunthorpe at the end of a long morning, in what turned out to be a tetchy affair against a determined outfit.
Once again, Beverley took the early lead after a good passing move involving Flynn Harwood and Henry Stephenson to eventually find Will Aston, though Scunthorpe hit straight back. Then followed some big tackles in a busy midfield, some high tackles, but overall Beverley made improvements in this final game, going down into the ruck and getting over the ball.
After the short break, Scunthorpe flew out at Beverley and took advantage of tiring tackles to score, then Beverley showed what they are good at with ball in hand with a flowing passing move which resulted in Will Aston pushing through the defensive line and literally bulldozing his way over the final Scunthorpe defence. Scunthorpe then wrapped it up to take the final whistle.
Lots to take out of these games for Beverley, some focus in training on tackling to build on the good work at the breakdown. No doubt the pitch size didn't play to Beverley's strength in running the ball in hand and next week in Bridlington will hopefully be a return to winning ways. Weather dependant.