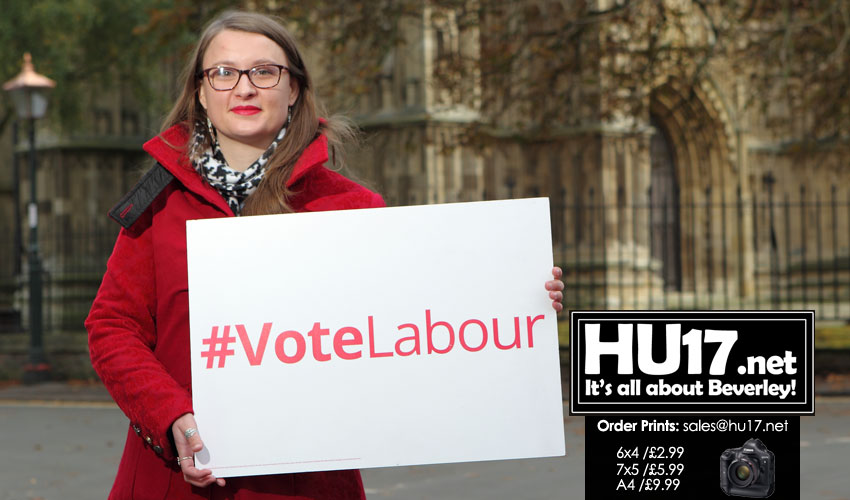 Labour Parliamentary Candidate Chloe Hopkins has officially launched her campaign. Standing in Beverley & Holderness, Ms Hopkins will contest a seat currently held by Conservatives.
Members of the local Labour Party and also Emma Hardy, who is also looking to be re-elected offered their support.
Emma said while introducing Chloe to members;
'Chloe is a fantastic candidate and advocate of Labour's transformative agenda.'
'The message is clear, Vote Labour in Beverley and Holderness and support everyone who is striving for a kinder, wealthier, safer society.'
Ms Hopkins herself says shes is delighted to have been selected to stand in the 2019 General Election.
A serving Town Councillor in Beverley, it will be the first time she has tried to be elected as an MP.
A former pupil at Longcroft School Ms Hopkins went to Oxford University where she studied English. Locally she has been working on a project to bring a Community Hub to Beverley.
Labour Parliamentary Candidate Thrilled To Be Standing
Speaking about her selection she said;
"I am so proud to have been selected to be Labour's candidate for my home constituency of Beverley and Holderness."
"The Labour party has an exciting programme to rebuild our country and deliver the real change that Britain needs so that no person or community is left behind."
"We have seen the consequences of Conservative austerity in Beverley and Holderness. From the cuts to our schools to an increase in waiting times in our NHS. We have also seen an increase in rough sleeping and the use of foodbanks."
Labour is warning voters that they certainly can not trust the Conservative Party. They say people in Beverley & Holderness that want to see properly funded schools and health care should support them.
With news that the Brexit Party are standing 317 candidates down, the election certainly remains a difficult one to call.
Beverley and Holderness residents will join the rest of the country and vote on 12 December. To participate you need to be on the electoral roll. You can find out how you can register to vote here.