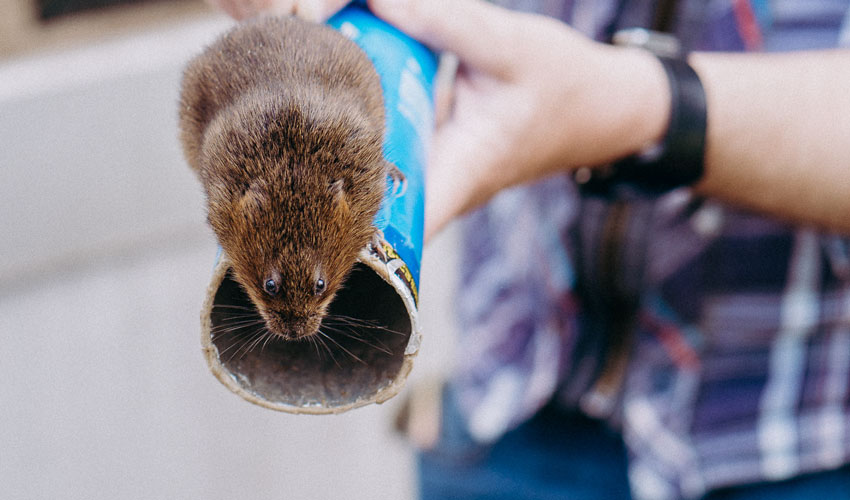 An exciting mixed-use development in East Yorkshire is providing homes for rare wildlife as well as people.
Forty water voles – one of the UK's rarest mammals – have been released into a specially created habitat at Brough South.
The release, which was watched by pupils from Hunsley Primary – a brand new school on Brough South. It follows the removal of around 20 water voles in 2017 from the development site, to make way for groundworks.
The animals were cared for by the Derek Gow Consultancy, a specialist water vole ecology business in Devon until the site was ready to receive them back.
They also bred in captivity, meaning twice as many water voles could be released than were collected.
James Humphreys, a senior ecologist at the Derek Gow consultancy, said developers, the Horncastle Group PLC, should be commended for work they carried out.
He said: "The Horncastle Group have gone above and beyond. They should be commended for that.
"They rewilded an area between the new houses and the Humber Estuary by creating a stream out of a dyke and planting a range of wildflowers that the voles like to eat.
"The water vole population has declined by 90 per cent over the past 30 years so is now one of the UK's rarest mammals. If you're planning a housing development, you have to take them away and either release them at the same site when possible or rehome them to a different site.
"Here, we are able to release them because of the work Horncastle has done. They have created a haven, which would see them successfully recolonise the area."
New East Yorkshire Development Take Care of Wildlife
The voles are released at around 16 weeks of age.
The process takes about five days, during which their release traps are left out so they can return for food and safety while they get used to their new surroundings.
However, by the third night, they have usually left their traps for good to live full time in their new home.
David Watson, director of the Horncastle Group, oversaw the project from the beginning.
He said: "Consideration for wildlife has always been a big part of the plan for Brough South. We have worked with organisations like the Yorkshire Wildlife Trust, RSPB and Natural England. As a result, we have designed and create a haven for ground-nesting and migratory birds, and for the water vole, which is one of our rarest animals.
"To know the voles are now safely back in their original home is fantastic. It means we are providing a safe environment for an endangered species. Also, the whole Brough South development will be enriched by the variety of wildlife that it is sustaining."
Brough South is a £200m mixed-use residential, retail, leisure and commercial development.
It includes hundreds of new homes, a new primary school, healthcare facilities, a supermarket and non-food shops. Also, it includes family restaurants and a variety of new premises for local businesses.
It is being brought forward by the Horncastle Group PLC on behalf of the Brough South Consortium. This includes the developers, local landowners and developers Alma Jordan (Builders) Ltd, Riplingham Estates and BAE Systems.