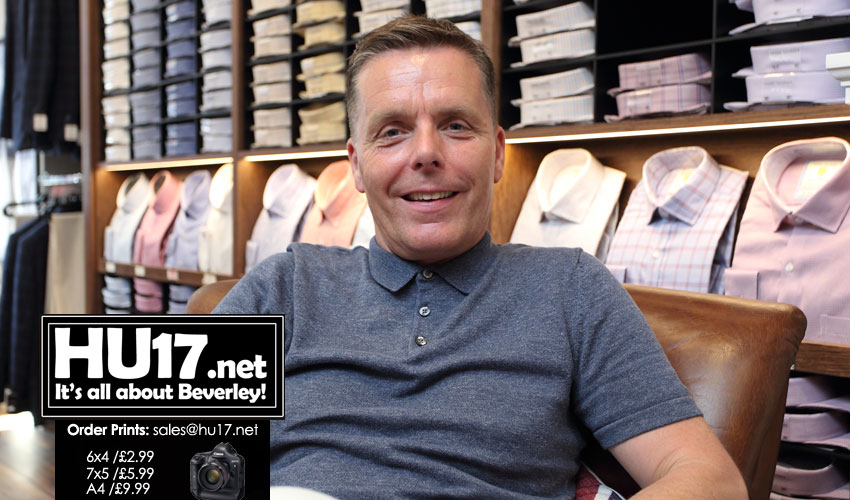 Lee Wardell says it is fantastic to be back trading in Beverley's Historic Core. Lee swapped the retail park for Beverley town centre where he is managing Brook Taverner, a men's clothing store.
Just weeks after opening, Lee also says that Brook Taverner have added to retail options for men in the town.
Speaking to Lee he said;
"It is fantastic to be back in the town centre. There is a massive increase in footfall given our perfect location on Toll Gavel being as busy as it is."
"Obviously with our neighbours being The White Company, Hotel Chocolat and Space Nk these are all the typical sort of customer profile brands that sit alongside us nicely."
"As a business, I think we have certainly added to Beverley's menswear offer. You have Murray Todd, Riley's also the Modern Draper and now ourselves."
"Where we are different above all else is the price point. With us being manufacturers shirts cost £29 while you can buy four for £100."
"So from a cost point of view, quality point of view and a styling point of view I do not think anyone can beat us in the town."
Lee is well known for his skills at dressing men and picking out the right clothes and right fit. He says Brook Taverner has many benefits when it comes to this.
Brook Taverner A Perfect Choice For Men Looking Outfits With Good Co-Ordination
He said;
"It is an easy product to style men with. For example, because we manufacture the shorts and the shirts you can see straight away they are co-ordinated. The shorts have a little bit of elastane in them so they give and they are a really nice fit."
"Co-ordination wise you can see by looking around it is an easy pickup. You buy the shorts and the shirt goes with it."
"People who are used to coming to see me for styling advice are certainly invited to come and see me here. This is a much stronger product for men who want to be styled by me."
"The quality of the garments and the co-ordination is the aspect I would say is strong. Also, the replenishment here is good. If we have not got something in your size we can get it overnight."
"We have got short and regular long fittings, different waist sizes obviously. Cut and style are really important. Getting the right leg length and the rise on the trousers is a key issue for comfort."
"The little bit of elastane in our trousers is key to providing a bit of a stretch so when you sit down they are comfortable."
"With our jackets, there are short, regular and long fittings. So we can put people in a jacket so the proportions look good and are co-ordinated."
"Co-Ordination is where a lot of guys struggle. They come in for a white shirt say for a wedding but generally speaking, it is an outfit they want to start to build. Everything we sell works together."