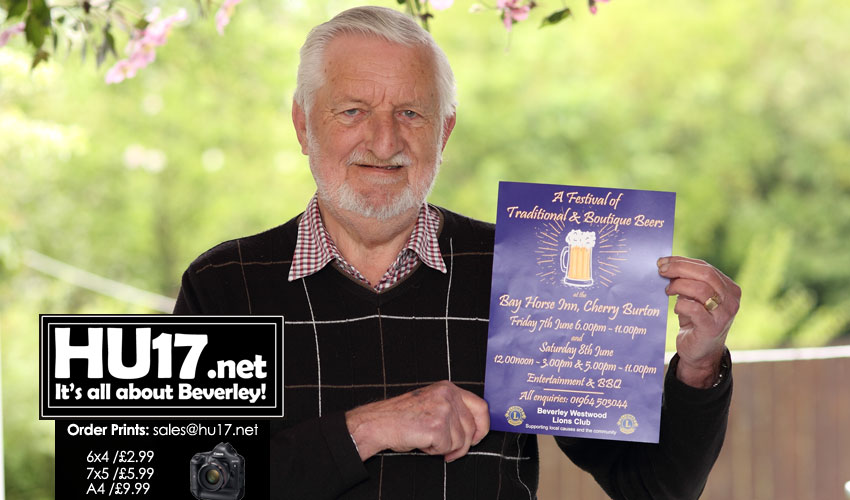 Beverley Westwood Lions Club is hosting a Festival Of Traditional & Boutique Beers.
Raising money for local charities, this is the first time the club has held such an event as they look to pad out their social calendar.
The Festival Of Traditional & Boutique Beers will be held over two days in June at the Bay Horse Inn in Cherry Burton.
Visitors to the event on 7 and 8 June will get to try out around eight different beers at an event that will also feature entertainment. They will also be linking up with the local scout group who will be holding a BBQ to raise funds.
Speaking to HU17.net, Alan Blenkharn, President of Beverley Westwood Lions Club said;
"We are always on the lookout for events we can hold to raise money for charity. Traditionally always held the Bonfire and New Years Day Fun Run."
"But we have a slack period in our events calendar. So this idea came about as we look to find something to fill those gaps."
Current Lions Chairman Nearing End Of Year At The Helm
Mr Blenkharn is coming to the end of his year as president of the club. He explained more about how the Beer Festival came about. He said;
"We meet monthly and used to do so at the Beverley Arms Hotel. After that closed we relocated to the Bay Horse in Cherry Burton for our meetings."
"Since doing that the landlord has also become a Lion. He has experience in organising Beer Festivals around the area and as a result, has convinced us to give it a go as it could be a good money maker."
"Any monies raised at the event will go back into the community. There has been a whole range of charitable things we have done this year."
"Some of the charities we have helped support include the Beverley Christmas Lights Appeal, the local food bank, Yorkshire Air Ambulance and Humberside Police's Lifestyle."
Lions Club Fund Special 'Para-Ted's' For Local Ambulance Service
"This year we have also funded 200 'Para-Ted's' for the local ambulance service. These are small teddy bears that are used when a child needs transporting in an ambulance."
"They act as a comfort for children who get to keep the teddy. Also, they help children who can often feel embarrassed to point out where they are feeling hurt."
"Other things we have done include taking people from Millers Day Centre to a sports day held in Doncaster. This is an event that sees over 50 lions clubs from Yorkshire participate, it really is a fabulous day."
"We want the community to come along and support the Beer Festival. You will have a fabulous time and get to enjoy a number of beers."
"As a club, we would also like to thank all sponsors who come forward and help fund the cost of the beer."
Alan says the Beverley Westwood Lions Club are on the hunt for new members. Anyone wishing to join can contact the group through their Facebook Page.
The Festival Of Traditional & Boutique Beers will take place on Friday 6 June and Saturday 8 June.