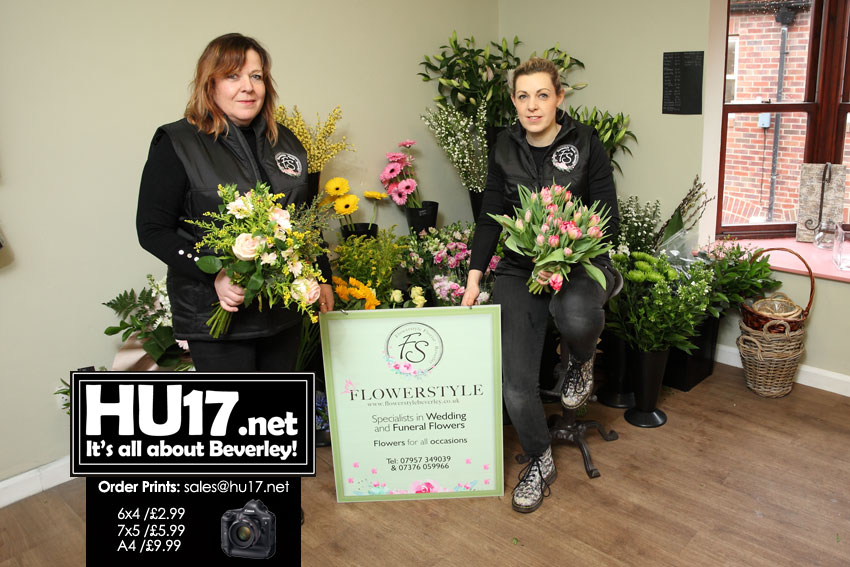 Flowerstyle say the time was right to relocate from Driffield to Beverley. Owner Susan Haigh and daughter Emma Chamberlain, both residents add they are delighted to be trading in the town.
Trading for over 9 years, Flowerstyle started in Tickton before relocating to Driffield. However, they have now teamed up with Fresh and Fruity by opening on Dyer Lane.
Speaking about the move Susan said;
"We have been in Driffield for six years. As we both live and like Beverley we wanted to move. Beverley is busier for shopping. Also, there is just a couple of florists in Beverley so felt the time was right to move."
"As florist's we offer everything. We cater for weddings, funerals and occasions. Currently, we process orders in person and over the phone. We are also working on our web site to offer online ordering."
When asked what makes Flowerstyle difference Emma said;
"My mum is what makes us different from other florists. She has a degree in floristry while she also has a background in graphic design."
"She is very creative and always coming up with new ideas. For example, in our last shop, we had a big bowl with fish in it and flowers. As a result of having that we ended up doing a wedding with fish and flowers."
Flowerstyle Working To Eradicate As Much Plastic From Their Products As Possible
As a business, they are also looking to adapt and as very environmentally friendly as possible. Susan's says her daughter is an eco-warrior so are making a conscious decision to reduce their plastic usage as much as possible.
Susan added;
"There is a lot of plastic in floristry. We are going to try and get rid of as much plastic as possible. We still have to use a little bit but where possible we are trying to eliminate it."
"People can if they have an eco-friendly arrangement, but if you are on a tight budget then some plastic will have to be used."
It is not just the arrangements where Flowerstyle are trying to be green, Emma explained more, she said;
"We also do handmade crafts. Some of the things we make include Bees Wax Wraps. They are an alternative to plastic. They are all organic and 100pc cotton and reusable. Also, we have started making macramé hangers from cotton to make sure they are sustainable."
Flowerstyle can be found on Dyer Lane in Beverley above the grocers Fresh and Fruity.