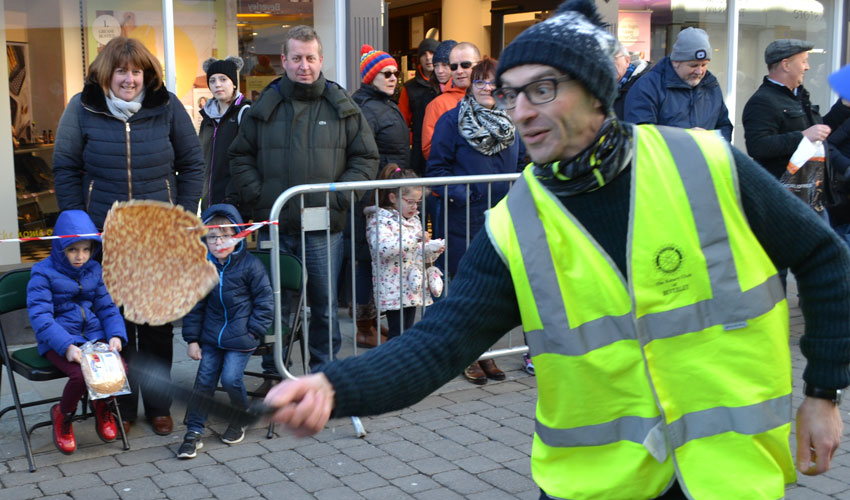 Beverley Town Council is reminding people there is still time for tossers to come forward for their annual Pancake Race.
With just over two weeks left until the big event, the Town Council are wanting more teams to take part in this community event.
Taking place at 11.30AM on 3 March teams wishing to enter have until Tuesday 22 February to get their entries in.
While this is a new event for the town, it was something that used to occur some years ago.
The 'Big Beverley Community Charity Pancake Race' is being organised by the Town Council in partnership with the Rotary Club.
Commenting on the event, Liz Whitaker, current President of the Rotary Club of Beverley said ;
"I am delighted that we are running this event again in partnership with the Town Council. Teams will be competing for the Rosanne Randle Trophy."
"This has been named after a Rotarian who introduced the idea of the event back to Beverley after visiting the legendary Olney Pancake Race."
"There will also be prizes for the Best Dressed team and the best Junior Flipper. The event is being held on the Sunday before Shrove Tuesday."
"We hope local residents will come to Wednesday Market to share in the fun. We also hope they support the teams in their races."
Beverley Town Council Want More Teams To Enter Pancake Race
Beverley Town Council is now making one final push to boost the number of teams entering this year's race.
They are urging any local pubs, cafes, social groups and residents to get together, form a team and enter.
Further information and Entry Forms for the Team event can be obtained by emailing clerk@beverley.gov.uk.
The Final date for Entries is Tuesday 22 February and they will be accepted on a strictly first come, first served basis. Please contact Helen Watson, Town Clerk for more details at the above email or call 01482 874096.