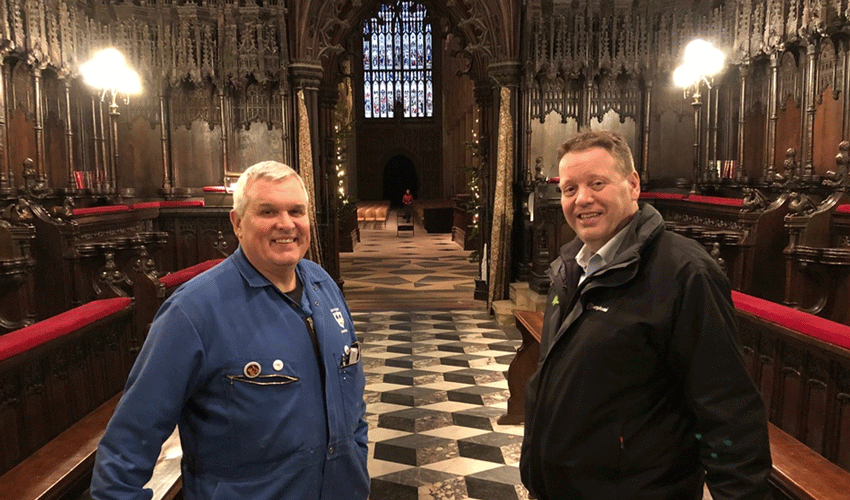 Work is underway to protect the huge West window at Beverley Minster from further deterioration.
The dedicated maintenance team are currently in the initial stage of what is a large scale project.
Installed between 1859 and 1865 the window has been weakened due to the elements. York Glaziers' Trust is working with the team at the Minster to determine a plan of action.
Beverley Minster Old Fund's Simon Delaney says that it has fallen on this generation to protect the Minster. He adds that they are carrying on the work that others have done for generations before them.
Speaking about their projects, he said;
"Over the last two years, we have made excellent progress with the restoration programme."
"Work we have undertaken so far includes replacement of pinnacles on the roof. Also, we have installed a new fire alarm system and significant patch repairs to the roof."
"Now we are putting together a plan to repair the large West window which is in much need of attention."
The latest technology is being used to ascertain the specifications needed for the project. It is thought that the work could cost over £1m to complete.
Simon added;
"York Glaziers' Trust recently restored a sample panel from the window. This panel is being used to gather data such as moisture, humidity and temperature. All this data is being sent back to their expert team in York."
Technology Being Used To Help Protect West Window At Beverley Minster
Simon has identified a range of projects. These have been put into a plan based on urgency and available funds. It is then up to Steve Rial and Paul Hawkins to carry out the work.
Steve has been working at Beverley Minster since 1989. He says that the technology that is being used is astonishing.
He said;
"I actually took over from the plumber who was responsible for removing the East window during the Second World War to protect it."
"Built in 1416, the construction of the medieval East window differs from the West window and even though it is much older, it is more solid."
"The technology used by York Glaziers' Trust is astonishing. In addition to the data feed for the West window, they have a special magnifying camera."
"This shows the miniature cracks in the stained glass for us to check the condition without building a scaffold to climb up there."