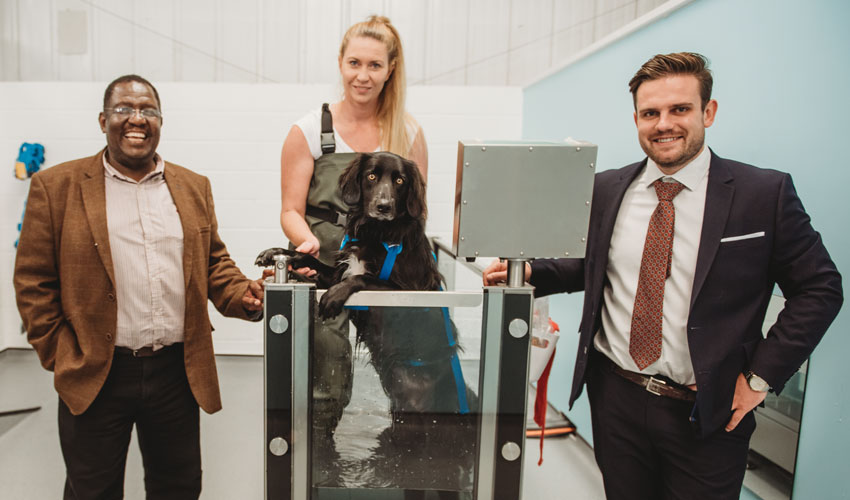 A former swimming instructor has gone in at the deep end with a business venture, Fit4Dogs which sees her swap people for pooches.
With the official opening of Fit4Dogs fast approaching, Kirsty Skeates is already running rehab regimes for canine clients at her hydrotherapy centre.
Fit4Dogs was founded by New Zealander Kirsty and her husband Mike, from Pontefract.
Kirsty was running her own swimming school before taking the plunge with the new venture. Her search for suitable premises took her to a Beckside Court, Beverley.
Garness Jones chartered surveyors helped with the lease and architectural specialists Eznat secured the change of use to accommodate a six-metre by three-metre hydro pool, state-of-the-art underwater treadmill, physiotherapy area and storage space for doggie life jackets!
Tui, Kirsty's border collie named after the New Zealand bird with a white tuft on its chest, took to the facilities like a dog to water. Other dogs have been referred by vets in the area. An open day on Saturday 20 October is expected to raise awareness of the benefits of hydrotherapy for dogs.
Fit4Dogs founder explains her story
Kirsty said:
"I built up more than 20 years' experience as a swimming teacher with people. I came here from New Zealand about six years ago. But I have always been involved with dogs and this is something I have always wanted to do. I love it.
"The big thing for me is raising awareness of the benefits of hydrotherapy for dogs. Arthritis is a problem for one in three dogs and the hydro pool is amazing for pain management.
"We also help dogs which are recovering from accidents or which have other medical conditions. We help a labrador who is very overweight and on medication costing £350 per month. The pool helps her build her muscles and reduces the need for the medication.
"The pool is purpose-built, heated to 29 to 32 degrees. It has jets so the dogs can swim against the resistance. It's big enough to take the larger breeds, which is important. The underwater treadmill is suitable for dogs of all sizes. We can also treat smaller animals such as rabbits and cats.
"We also have different types of float coats – safety harnesses for the dogs to wear while they are in the water. It's a fun job. I have had a lot of interest from people want to work with us and a waiting list of clients for hydrotherapy. The owners can't swim with their dogs but they do get a lot of enjoyment from watching."
How Fit4Dogs found the right building for the new venture
Joe Bvumburai, Director of Eznat, said:
"Our background is in housing associations and we specialise in extra care housing – for people rather than dogs – but over the years that work has led to us being involved in more general business opportunities.
"With Fit4Dogs the idea is to provide a facility for Beverley and the surrounding area which offers therapy for the rehabilitation of dogs. We helped Kirsty apply for a change of use of the building because it is no longer being used for industrial purposes."
Charles Parkinson, Agency Surveyor at Garness Jones, said:
"There are two units on the site. We brought the Twisted Angel Brewery in next door earlier this year and this is another interesting business.
"Kirsty became aware of the unit some time ago but there was a tenant in. They left and she came back to it."
"We work in all business sectors but we haven't done anything with swimming dogs before! Beverley is attracting a lot of interest from various businesses and this is a good addition to the local services."