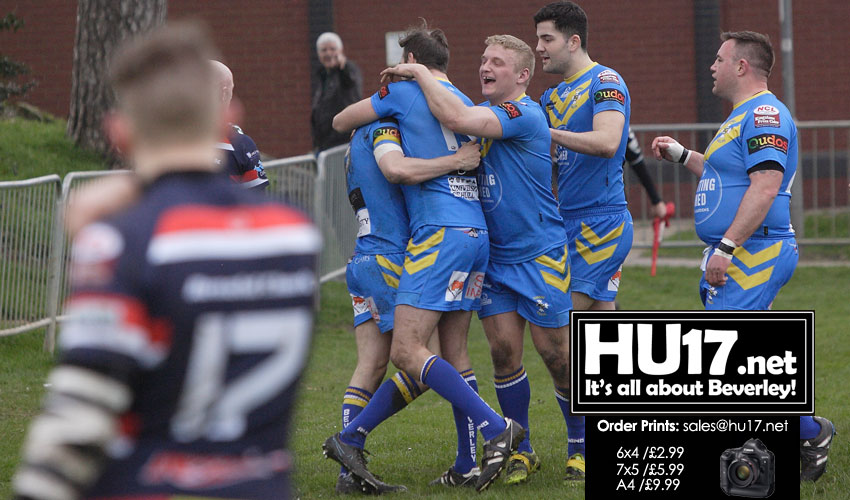 The blue golds dispatched their opponents ruthlessly on Saturday to consolidate their position at the summit of NCL Division 3.
Salford City Roosters came to the Beverley Leisure Centre with a depleted squad for a number of reasons and the writing looked on the wall very early on.
Beverley are a pretty formidable and well drilled unit these days. Scott Taylor and his coaching team appear to be really getting the best out of a youthful squad which plays a disciplined yet exciting brand of rugby.
It is still very early in the season and difficult to assess all the credentials of the other sides in the division, but only teams that can pick their best and play their best are going to take the points off Beverley this season.
Taylor had little to say afterwards. "Just go away wind down and then prepare for next week and keep it rolling."
In a dominant performance, Lewis Poskitt took the man of the match award while helping himself to another four tries.
Some early pressure from the visitors saw them take the lead with a penalty from Paul Morgan after 6 minutes. It was short-lived and moments later quick hands saw Billy Riby link up to evade the best efforts of a number of defenders to score.
One of the tries of the match soon followed with sweet handling to the left. Peter Starling delivered the final assist for first-team debutant Sam Brown to step inside defenders to score. Adventurous play then saw Lewis Poskitt kick direct from the scrum to utilize the pace of Ben Bardle. Bardle got a foot to the ball and then Josh Poskitt pounced to score.
Neat footwork by Lewis Poskitt then saw him open his account with a try. He later saw his kick strike a Salford defender and bounce into the grateful hands of Alex Starling for more points. More quick hand then saw Alex Starling add his second for a 36-2 interval lead.
The early moments of the second half saw the home side very quickly turn the screw. Lewis Poskitt's break from deep saw him draw the full back to send Lewis Straw over under the posts.
Lewis Poskitt added 2 further scores and Josh Poskitt another to stretch the lead to 60-2. There was then a lull in the scoring of around 20 minutes before Mike Foster added a consolation score for the visitors.
Lewis Poskitt had the final word when sprinting away for his fourth as full time fast approached. All of Beverley's 11 tries were converted apart from the final one. Goal kicking duties were shared between Lewis Straw who converted 7 and Josh Poskitt, who converted 3.
Final Score: Beverley ARLC 64 Salford City Roosters 8 | Reported by Nick Robinson