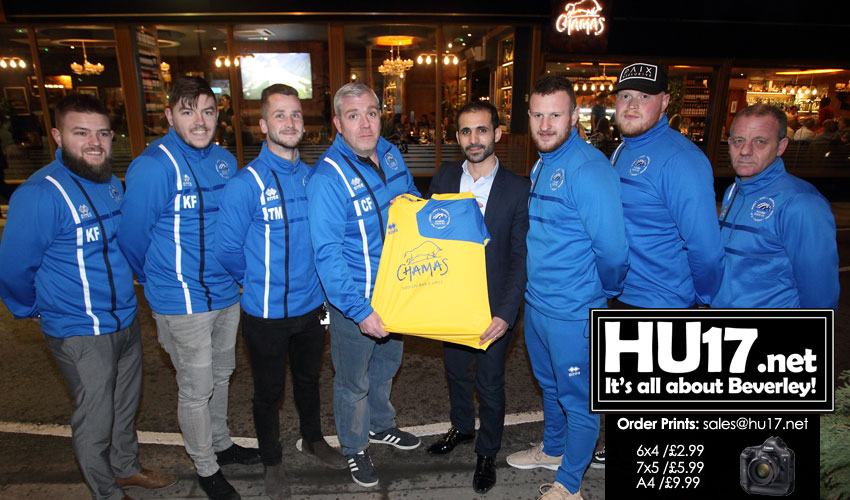 Beverley's premier Brazilian Rotisserie, Chamas will see their name appear on the shirt of a local football club after agreeing a sponsorship deal with the Humber Colts.
Chamas, which is located in heart of Beverley at Wednesday Market, welcomed members from the squad to the restaurant, where the team presented the owner, Ali Tekce with a shirt.
Craig Fawcett, the club secretary for the Humber Colts thanked Chamas Brazilian Rotisserie for their support. Speaking to HU17.net he said;
"We are very grateful to Chamas for helping fund our kit so we can continue to provide football in the community."
"Since our formation, the Humber Colts have been committed to the developing football in Beverley not just for men but also for younger players."
"On behalf of the everyone at the club and those involved with the club I would like to thank Ali and his team at Chamas Brazilian Rotisserie."
"We are delighted with the shirts and proud that Beverley's Premier Rotisserie has backed our club, it means a lot to all of us that a local independent business has got behind our club."
Commenting on the sponsorship, Ali Tekce said;
"As a local independent business we are always looking for ways to support our local community. Sponsoring the Humber Colts was a logical choice for us and we are pleased we can help the club."
"Sport helps people stay healthy and also build friendships, it is a great pleasure to be able to get behind the Colts and support the incentives they deliver.
Chamas, which is rated number one on TripAdviosr out of 109 restaurants in the town has proved a real hit since it opened.
Chamas Brazilian Rotisserie has undergone one expansion and recently enhanced their vegetarian menu and introduced a special lunch time deal which can be claimed on their Facebook Page.