Beverley Youth Coalition will go live as the Town's Parish Councils look to work together and deliver activities for your people in Beverley.
The incentive which was first put forward by Beverley Town Council's Cllr Robert Begnett will host the first of two events at Molescroft Pavilion later this month.
Speaking to HU17.net about the Beverley Youth Coalition 'Weekender' Cllr Begnett said;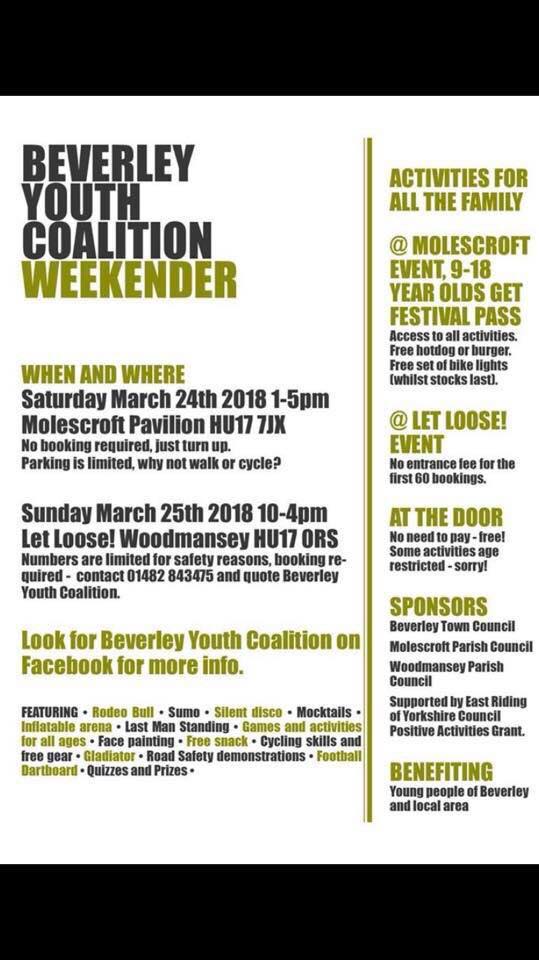 "Beverley Youth Coalition is an umbrella organisation hosted by Beverley Town Council. It acts as a hub for any organisations involved in providing activities for young people."
"Around three years ago we began to explore how all the parish councils can work together to deliver things for young people to do in the community."
"We were awarded a PAG (Positive Activities Grant) by ERYC last year and after canvassing young people in local schools, came up with a shortlist of activities they wanted to see."
"The 'Weekender' is a combination of those ideas with a few educational youth services thrown in."
Cllr Begnett explained why the initial events will be held in Molescroft and Woodmansey, he said;
"We also looked for venues in the town centre but couldn't find anything suitable in the timescale we had to work to."
"It was more important to get this off the ground and moving. More events will follow in other areas if a demand is seen. The events are open to young people from Woodmansey, Molescroft and Beverley."
"Our first event will be held at the Molescroft Pavilion, and thanks to the support from Molescroft Parish Council we are able to save some money on venue hire which we can put back into the project."
Taking place on 24th March at Molescroft Pavilion young people will have the opportunity to engage in a range of activities including Sumo suits, Rodeo Bull and a silent disco with a mock tail bar.
The second part of the event will take place in Woodmansey at the adventure park Let Loose/ Places for this are very limited and anyone wishing to take part can apply by calling 01482 843475.
Cllr Begnett added;
"We hope this will be the first of many events. It has taken a lot of effort to get to where we are and it's a great example of the three councils working together to deliver something for the young people of Beverley and the area."