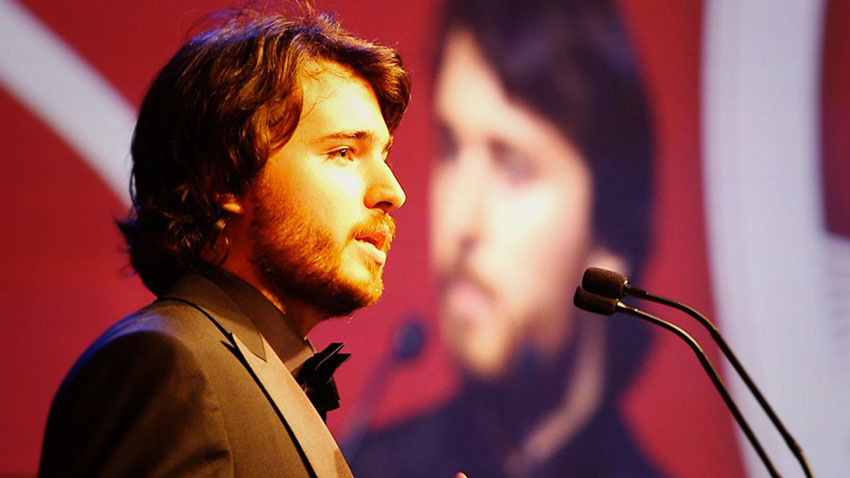 One of the UK's leading social entrepreneurs, Josh Littlejohn MBE will be joining the speaker line-up for The Business Day at Bridlington Spa on Friday 8 June.
This latest announcement follows that of headline speaker Joanna Lumley, along with Geoffrey Boycott and host of the event, journalist and broadcaster Naga Munchetty.
Josh is the co-founder of Scottish social enterprise Social Bite, a national chain of sandwich and coffee shops, which shot to global fame when Hollywood A-lister George Clooney visited an outlet in 2015. Another Oscar winner Leonardo Di Caprio then visited the social enterprise in 2016.
Social Bite competes in high street takeaway food, as well as the high-end restaurant market, but does so for a social purpose. 100% of Social Bite's profits are donated to good causes and 1 in 4 of their staff are people from homeless backgrounds. Social Bite also feed the homeless with food that their customers pre-pay for. The organisation is by far the largest distributor of free fresh food and hot drinks to the homeless in the UK – giving away over 100,000 items each year.
Josh is also the founder of The Scottish Business Awards and as well as Clooney and Dicaprio, he has also enlisted the help of world leaders such as President Bill Clinton and Sir Richard Branson to support his social endeavours.
In 2016, Josh co-founded a Social Enterprise beer company called Brewgooder, where 100% of the profits go towards providing clean water. The brewery plans to provide clean drinking water for 1 million people in five years.
At the age of 30, Josh has raised over £4 million for charity and made a significant impact on the issue of homelessness in Scotland. Josh is an originator of social businesses, which not only tackle pressing issues but also radically challenge how we think about doing business.
In 2017, Josh was given an MBE in the New Years Honours list, which he dedicated to the homeless and marginalised. He has received 2 honorary doctorates and he also made the Debrett's list of 500 most influential people in the UK 2017.
Josh concluded the year by raising more than £3.5M to help eradicate homelessness in Scotland, organising the world's biggest sleep-out event Sleep In The Park. Sir Bob Geldof, John Cleese and Liam Gallagher were just a few of the star names involved, with major media outlets covering the success of the event and Josh Littlejohn himself.
Councillor Stephen Parnaby OBE, Leader, East Riding of Yorkshire Council said "The announcement of Josh Littlejohn will certainly add to what is already a great line-up for the day, hearing from a leading social entrepreneur who has already achieved so much.
"The Business Day places business networking at the heart of a day of discovery and insight and the event has firmly established itself in the calendar coinciding with the end of Humber Business Week."
The Business Day will take place at Bridlington Spa on Friday 8 June 2018. Tickets cost £125 per person, or £1,000 for 10. For more information, or to book tickets go to bridspa.com or call 01262 678258.