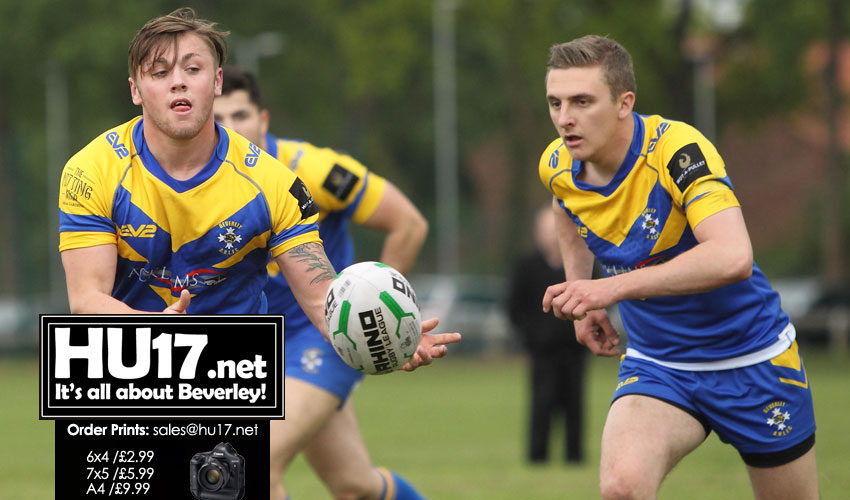 The blue and golds will have no complaints about this one as they were defeated by a well drilled outfit which underlined it's title credentials.
The attacking machine of Siddal Academy took some containing and Beverley spent long periods of the game defending on their own goal line. It seemed that Siddal had just too many attacking options.
However Director of rugby Pat Howdle nonetheless gave praise to his battling troops.
"We were still in the contest at the break but two tries early in the second half put them in the driving seat and it would have been very easy to go down to a big score. But we stuck at it for the full 80 and showed pride in the shirt."
Siddal Academy enjoyed all of the early pressure culminating in Max Dow giving them the lead with a converted try in the 10th minute. Beverley did manage to send the restart kick dead and get an attacking set on the hosts goal line which was well defended.
Beverley had more defending to do which they did well before finally establishing some territory. They enjoyed a spell of repeat sets forcing three line drop-outs. There were some strong carries by Jack Howdle and Luke Inglis but they did not convert pressure into points,
Callum Holroyd put Siddal further ahead in the 33rd minute with a try that was not improved. Again the re-start kick from Beverley bounced over the dead ball line. Siddal's drop-out went into touch on the full giving another dangerous attacking set to Beverley.
They threw the ball around in enterprising style with one pass going to ground. This was collected by Ben Naylor who sidestepped his way to a try. Lewis Straw converting.
Now enjoying their best spell of the game, Beverley threatened more points. Lewis Poskitt kicked ahead and was obstructed on the way to the line. With the half time whistle beckoning. Lewis Straw elected to go for goal and reduce the arrears to 10-8.
Two early second half tries by Richard Lopag for the home side put them in a commanding position at 20-8. They threatened more points but Beverley scrambled well in defence and threatened to a fight back.
A break by Jack Howdle saw the ball offloaded with Straw and Poskitt handling but a final pass to Bardle went to ground. They continued to roll forward and Jack Howdle will consider himself unlucky to not be awarded a try.
He forced his way over with a flurry of defenders around him and appeared to have grounded the ball. The referee despite some strong protests ruled him to be held up over the line.
After a few more forays at the Siddal line the home side absorbed what was thrown at them and added a penalty and a converted try by Finlay Hickey to seal the league points with a slightly flattering scoreline.
Bobby Howdle's non stop performance earned him the man of the match award as voted by the opposing coaches with Jack Howdle certainly not far away with a similar non stop performance.
Beverley are at home to Siddal Academy this Saturday (2.30pm kick off ) at the Beverley Leisure Centre in a match that was re-arranged from it's original April 8th date.
Final Score : Siddal Academy 28 Beverley ARLC 8 | Reported by Nick Robinson