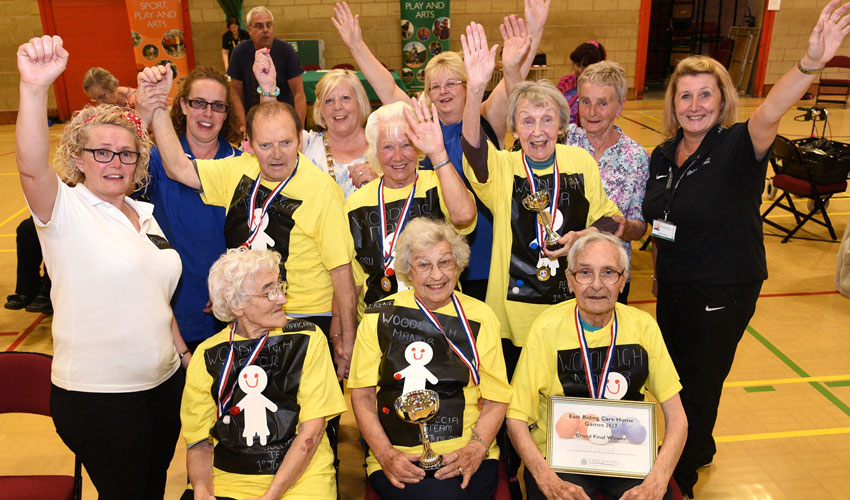 The annual Care Home Games grand final was held at East Riding Leisure Beverley last week where older residents from the East Riding battled it out for the top prize.
The event was organised by East Riding of Yorkshire Council's Sport, Play and Arts Service and enabled a total of 16 teams from care homes across the East Riding to compete in the grand final of the competition which saw players ranging in age from their late 60s to 102 years old, put their Boccia soft bowls skills to the test.
Boccia soft bowls is a form of indoor bowls which can be played by people of all abilities, and is even included in the Paralympics.
John Skidmore, director of corporate strategy and commissioning, said: "The Care Home Games is a brilliant way for everyone to get involved regardless of their physical abilities and age.
"As well as helping with exercise, this is a great way to socialise in a friendly and fun environment.
"I would like to thank everyone who took part in and helped organise the games and I look forward to welcoming the teams to next year's event."
To secure their place in the grand final seven regional finals were held in the East Riding with teams from Haltemprice (x2), Beverley, Driffield, Goole, Bridlington and Withernsea going through.
The overall winner was Woodleigh Manor from Hessle who were delighted to take home the top honours.
Ian Rayner, interim head of culture and customer services, said: "It was a great day; everyone thoroughly enjoyed themselves and the winning team members are very happy.
"Not only do the teams love competing in the games, they love practising for them as well.
"Boccia soft bowls is a sport that can be played by anyone and it is a very sociable activity which encourages friendships to flourish.
"It was great to see everyone working well as a team and I thoroughly enjoyed talking to the participants during the event"
Second place went to Cassandra House from Cottingham. The prize for the best t-shirt went to Woodleigh Manor from Hessle, while the prize for best flag was picked up by Queens Residential Home from Withernsea.
Sarah Johnson, sport and active communities officer at the council's sport, play and arts service, said: "It has been a brilliant event and it was lovely to see everyone enjoying themselves.
"A lot of teams return every year and I'm pleased to see how excited they are when they arrive and how much fun they have when they are competing with other like-minded people."
The chairman opened and presented trophies and certificates to the winners. All homes also received a framed certificate and all participants received medals.