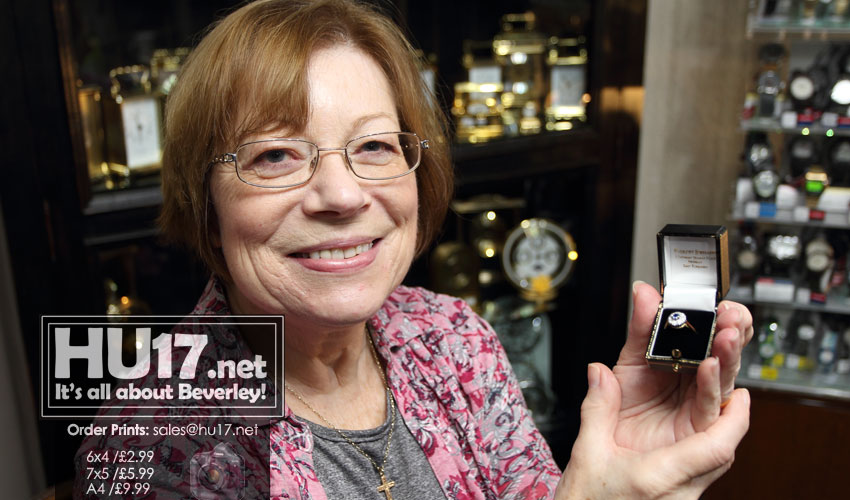 Ros Stanley from Cherry Burton who lost her engagement ring in Beverley collected a new one from local business Prescott Jewellers.
Her husband for the second time put his hand in his pocket to replace the lost ring that cost him £40 some years ago, which was all the money he had at the time when he proposed as a student.
Mrs. Stanley however did not just want any ring. A keen supporter and member of a local Fairtrade group, she wanted her new ring to be made from Fairtrade Gold.
After looking for a jeweller's in Beverley the couple discovered that Prescott Jewellers were able to supply a replacement ring made from Fairtrade Gold.
While delighted to have a new ring, Mrs. Stanley explained why it was important to both of them that they use Fairtrade Gold, she said;
"Millions of people around the world work on small scale mines in often very dangerous conditions."
"By buying Fairtrade Gold I know that these people are paid a fair market rate instead of being exploited and given additional financial assistance to invest in their communities."
"For mines to sell their gold as Fairtrade they have to comply to strict rules regarding the employment of people, women's rights and child labour."
Mrs. Stanley's choice is a simple yet effective one that has supported a local business in Beverley and also one somewhere else in the world.
With Fairtrade Fortnight happening at the end of the month, plans are already well underway in Cherry Burton to raise awareness of Fairtrade and why it is important.
Mrs. Stanley said;
"This year asks everyone to 'Put Fairtrade Into Your Break', so an easy one to participate in as it can be a simple thing like a cup of coffee."
"Here in Cherry Burton virtually every village group is organising its own Fairtrade break, including Pre-school, school, church and even footballers! Costcutter, the village shop is stocking up on Fairtrade items and the pub is really going to town."
"Call in to the Bay Horse Cherry Burton any time between February 27th and March 12th and you'll find Fairtrade on the menu, Fairtrade drinks available at the bar, balloons, bunting, posters, a Fairtrade raffle and lots more."
To find out more about how you can get involved more with Fairtrade you can visit www.cherryburtonftlp.org