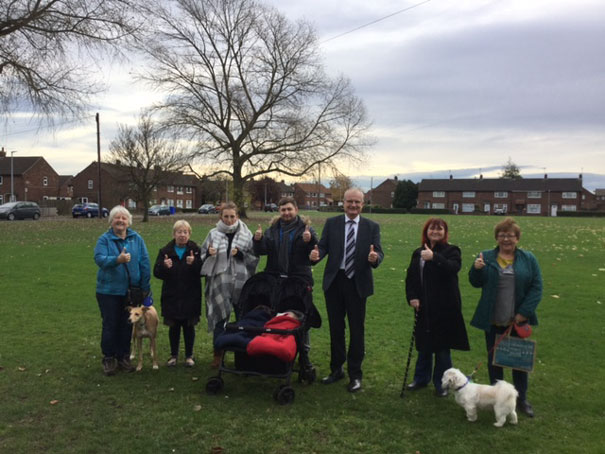 There was good news this week for residents on Swinemoor Estate who have been campaigning to preserve the "Mudhills" open space next to Queen Elizabeth playing fields on Burden Road.
Residents approached newly elected St Mary's ward councillor, Denis Healy, during the recent by election campaign, to help them protect the green space which was under threat from a planning application to build 14 houses.
Cllr Healy was able to inform the residents this week that the planning application is currently recommended for refusal on the grounds that the development in its current form doesn't justify the loss of the open space, and that proceeding with the planning application would adversely affect the environment for future generations.
Commenting on the news, Cllr Healy said:
"I wholeheartedly endorse the recommendation of planning officers to refuse this application. People in this town feel that development has got way out of hand."
"The Council plans to build over 3000 new houses in Beverley over the next 15 years, and although new homes have to be built somewhere, there comes a point when local communities say enough is enough."
"Squeezing 14 further houses into a green space that has been enjoyed by generations of families is a step too far. People living in the area have petitioned the Council, and are making their voices heard. I am delighted that officers are listening."
"The applicants have been advised of this, but it is not clear whether they are planning to challenge this recommendation and attempt to proceed with the application, so the campaign to protect our green spaces must continue."
"People need to continue to speak out and make their voices heard to preserve our green spaces for generations to come."
Residents in Swinemoor Estate have already suffered more than most when it comes to public facilities in their location be shut down. The Youth Club and Day Centre have both been closed down by East Riding of Yorkshire Council.
Some locals raised concerns after the ERYC built a sheltered housing complex on what used to be an all weather sports pitch leading to claims the local authority were robbing people of their open spaces.