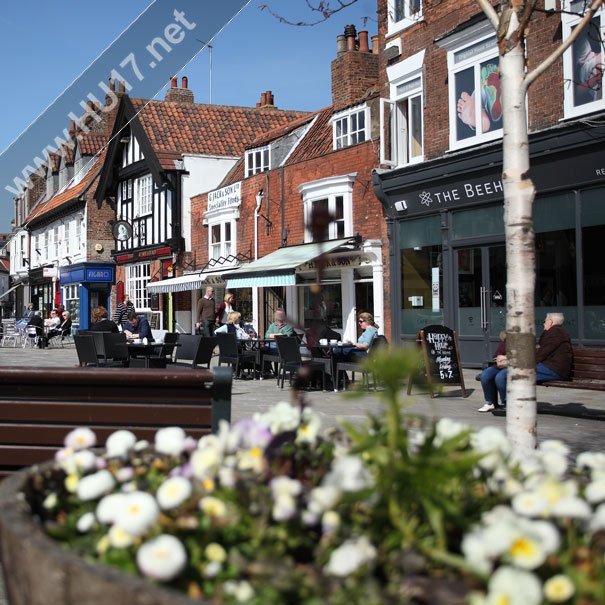 Falls prevention advice will be on hand at an information event taking place in Beverley later this month to coincide with Older People's Day.
East Riding of Yorkshire Council's public health team have joined forces with several health providers, charities and community groups including the NHS, Age UK and Alzheimer's Society to hold an information event in Beverley's Wednesday Market from 9am-4pm on Friday, 30 September.
The aim of the event, which will be run from the Public Health vehicle, is to raise awareness of the needs of older people across the East Riding and the challenges an ageing population faces.
It will also provide information on the support which is available to help older people live independently, including advice on how to prevent falls, and what to do if someone has a fall.
Alan Precious, services coordinator at Age UK East Riding, said:
"Falls can affect your confidence and lead to loss of independence, but they are not an inevitable part of ageing and there are things that you can do to prevent them.
"Falls are a common, but often overlooked, cause of injury. Around one in three adults over 65 who live at home will have at least one fall a year, and about half of these will have more frequent falls.
"Most falls don't result in serious injury. However, there's always a risk that a fall could lead to broken bones, and it can cause the person to lose confidence, become withdrawn and feel as if they've lost their independence"
"Age UK East Riding are very pleased that Older People's Day is being supported and promoted in this way as we feel that we all have a positive part to play in providing support for older people locally," he added.
The NHS Health Trainers will be at the event to provide information about the support available to people across the East Riding to help them adopt healthier lifestyles, such as eating healthily, exercising more or stopping smoking.
Health Trainer John Eldon said:
"Sometimes it's all too easy as we get older to think that things like increasing frailty and resulting falls are inevitable, but that's really not the case.
"There's no reason why you can't continue to live as healthily as you want to, and eating a healthy diet and taking regular exercise will help you stay fitter and stronger for longer, and so avoid those unpleasant, dangerous falls."
The information event will be part of a number of events taking place locally as part of Older People's Day.
Older People's Day is a national campaign, which takes place on 1 October annually, to coincide with the United Nations International Day of Older Persons.
Under the banner 'Full of Life' the campaign aims to celebrate the achievements and contributions that older people make to society and the economy, while tackling outdated stereotypes and the negative attitudes that can be associated with older people.
Councillor Jonathan Owen, chairman of the East Riding Health and Wellbeing Board, said:
"The East Riding is home for a rapidly growing older population and Older People's Day is a real opportunity to tackle stereotypes about ageing, celebrate the achievements and abilities of older residents, most of whom are living active and healthy lives, whilst raising awareness of the challenges that people face as they get older and how to counter them.
"This information event will provide the public with a wide range of invaluable information about the great work that is being done and the services which are available in the East Riding to support older people and help them to lead full and happy lives regardless of age."
There are around 600 million people aged 60 and over in the world today, a number which is set to double by 2025.