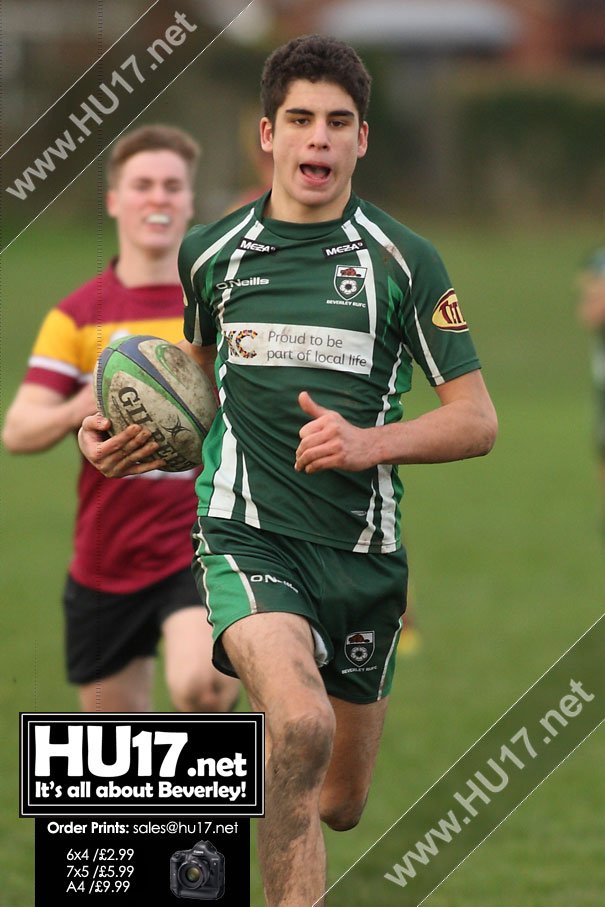 Beverley RUFC Colts are sitting pretty at the top of Division II of the Yorkshire Senior Colts League.
Following their fantastic result at the weekend against sandal, Beverley's Colts are now the only side that remain unbeaten and boast a perfect eight wins from eight games.
Luke Hazell who scored two tries in Beverley's victory over Sandal at the weekend felt the result was a great achievement for the whole team, he said;
"To beat a side unbeaten in the league so convincingly it's a great achievement. It's always nice to score, but the win is more important."
A slight shadow was cast over an otherwise jubilant day for Beverley however. That was the site of their talisman, gaffer Phil Rann's 'Great Dane' Alfie Hart-Fisher hobbling off the field play.
Hart-Fisher who plays number eight for the Colts showed great heart and spirit coming back off the bench to try and play through the pain barrier and help his side through what was a sticky patch in the game.
The good news for the Colts is that the injury does not look to be too serious, teammate Joey Franklin said;
"He's OK it was a slight knock so hopefully be better for next week, which is another big game away at Malton. We do have replacements that can fill in and do just as well, but he'd be a big loss."
His absence from the field gave other players in the side a chance to shine something the man of the match Lewis 'GShore' Szrama did.
Speaking about the flanker's performance, Franklin said;
"Gshore was awesome and totally deserves to be man the match. All through the game he made some great carries some solid tackles. To cap it all off he also scored his first try."
Next weekend's trip to Malton & Norton will be another testing encounter Beverley. The hosts have only lost one game all season which was against third placed Scunthorpe.