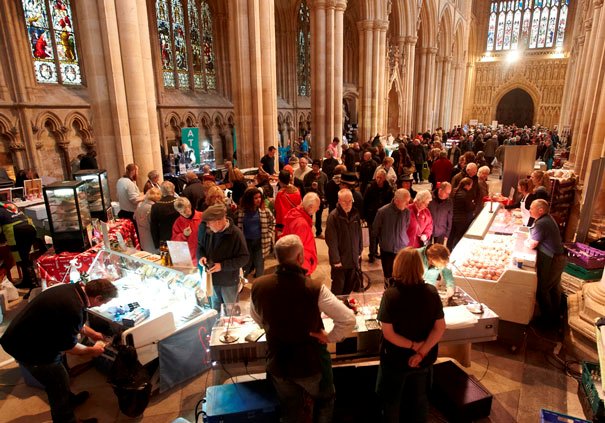 The Beverley Christmas Festival of Food & Drink on Saturday 28th November from 10am to 3.30pm is all set for a fun, festive day for the whole family to enjoy.
Held inside the glorious gothic setting of Beverley Minster, this winter festival attracts the finest food and drink producers from across East Yorkshire. The event, now in its fourth year, is free to attend, and features over 65 stall holders offering a great variety of local produce to residents and visitors to the town.
From beers and liqueurs, to pies and Christmas puddings, there will be a whole host of produce on offer, all made with locally sourced ingredients and created by local producers.
Entertainment will be provided by Beverley Community Choir and the Beverley Ukulele Group which will bring a festive feel with Christmas songs and carols.
There will be a full day of half-hourly festival demonstrations, showing a variety of skills, including: 'how to make stollen' with Side Oven Bakery; 'the art of brewing' with Atom Beers; Peter Clayton will talk about 'Fabulously Fruity Wine'; and children can get involved with decorating Christmas cupcakes and cookies with Ginger Kittens and Lakeland.
There's also a festive floral theme; Broken Blossom florists will be showing how to create a beautiful Christmas display, and Kevin Hara will be showing how to make Christmas arrangements and centrepieces.
Speaking about the event, Town Clerk Helen Watson said: "The Christmas Festival of Food & Drink is a really festive day out for all the family. We would invite Beverley's residents and visitors to come along, sample some wonderful food and drink and meet the producers. It's a magnificent way to stock up your festive store cupboard, buy some tasty Christmas gifts and get into the Christmas spirit."
Santa's grotto will be open from 1pm, and children can give him their present wish list and have their photograph taken with him.
There will also be a tombola stall in support of the Mayor's charities: Beverley Community Lift and The Cherry Tree Stroke Club.
In addition, there will charity stalls, refreshments in the Parish Rooms, and the Minster shop will be open for the sale of Christmas cards and gifts.
Mayor of Beverley Councillor Peter Astell said:
"Beverley Town Council is proud to hold this event in partnership with Beverley Minster. There will be a wide variety of food and drink on offer, and it's a great way to support local producers and businesses."
"The Christmas Festival of Food & Drink attracts visitors to the town from all across the region, and it has been a Finalist in the Remarkable East Yorkshire Tourism Awards (REYTAs) for the last three years. This year seems set to be the best yet."