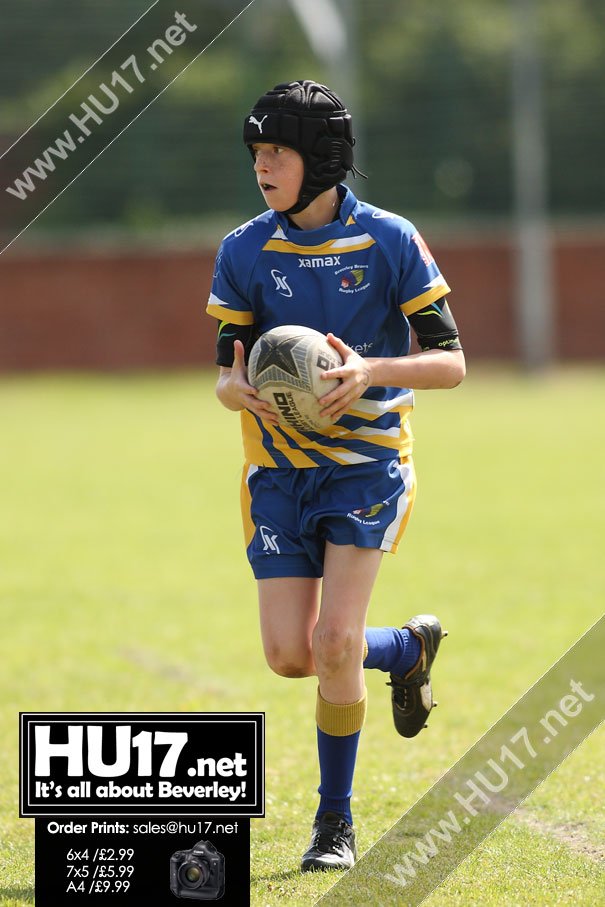 Beverley Braves 2015 under 12s entered the Yorkshire Cup again this year hoping to at least progress to the second round, so when the draw served up the Yorkshire Division one league & cup champion's East Leeds the task looked that much more difficult.
But the Yorkshire big boys were in for a shock and were taken aback by the ferocity of the Beverley opening set, strong running from forward Alex Nuttall, who took two-hit ups in the first set to put down a marker, and they soon opened the scoring with Cain Robb following up a cheeky Joe McCabe grubber to skilfully scoop up and score next to the posts, after slotting the conversion the Braves deservedly led 6-0.
Inevitably, Leeds would get the ball and when they did it was a wall of blue & gold that met them, often with three, four and five in the tackle the opposition made errors and after ten minutes even after levelling at 6 apiece they were clearly rattled, and it showed with their indiscipline.
Beverley took advantage and were in again after good vision from Shamus Blades down the blindside allowing Robb to dive over low for his second and at half time, the score was 10-6 Beverley.
The second half continued as the first with swarming defence nullifying anything Leeds tried to throw at them and then coming forward themselves with Tom Nuttall, Will Cohen and Alexei Rawlings prominent and halves Joe McCabe & Charlie Gay providing the link between the impressive forwards and the backs.
The game was eventually put to bed when workhorse prop Jack Dixon picked up a loose ball 10 yards out and barged his way over, Robb converted and at 16-6, there was just no way back for Leeds.
Men of the match went to Jack Dixon and the outstanding Cain Robb but were pushed close by Joel McKenna.
Jubilant coach Craig Collins said afterwards;
"Everyone faces fear, it's what you do with that fear that makes you a man."