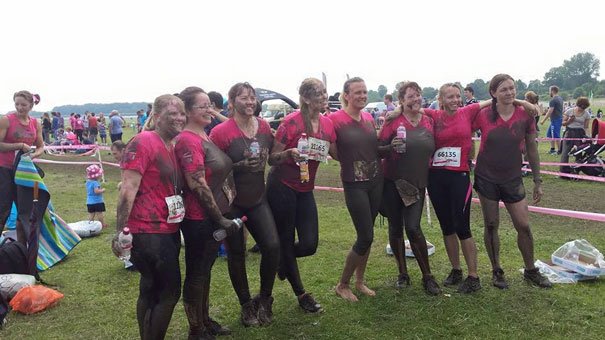 A team of women from a Beverley firm have completed the muddiest of challenges to raise money for the fight against cancer.
The eight-strong team from TIR Training and Deflog VQ Trust gave it their all in Cancer Research UK's Pretty Muddy Challenge at York Racecourse.
Alongside thousands of other participants, they ran, ducked and dived their way across the five kilometre course in the women-only event.
They were faced with cargo nets, giant inflatables, tunnels, tyres and pools of mud as organisers made the course as fun and challenging as possible.
In the team, which included Joanne Buglass, Staff Sergeant Sue Macfarlane, Vanessa O'Riordan, Marie Cromwell, Jess Jackson, Kelsie Carter, Sue Tucker and Julia Barcoe, raised £607 for the charity through individual sponsorship from friends, family and colleagues, as well as online donations.
Joanne, Training Officer at TIR, has completed Cancer Research UK's Race for Life for the past five years and suggested the Pretty Muddy Challenge to her colleagues.
She said: "The aim of the day was to have some fun and raise money for Cancer Research UK.
"I am already booked in for next year's challenge and the team is growing, with the ladies who joined me this year willing to do it again next year alongside a few more volunteers.
"The event itself consisted of a motivational warm up of dancing and fun before the challenge, which was a good laugh and also embarrassing for those with two left feet.
"The 5km circuit followed with about 10 obstacles along the way.
"The challenge can be as arduous as you make it, with some people sprinting, but most of the participants jogged and walked, making new friends along the way.
"I would like to say thank you to all the ladies involved for making it such a fun day and look forward to seeing them all there next year."
The team wore pink in keeping with Cancer Research UK's colour scheme and had TIR and Deflog logos on their T-shirts.
Julia, Director of People and Resources at TIR Training Services and Deflog VQ Trust, said: "There were various obstacles to go over or under and teams set off in waves every 15 minutes.
"I'm really glad we did it. It was a really good afternoon and it stopped raining for us.
"There was a lot of good feeling that we completed it and people were quite proud of themselves.
"Everyone was there to raise money, so it didn't matter how fast or slow you were, and there were a lot of spectators and supporters along the route to encourage us.
"I would encourage anyone to do it."