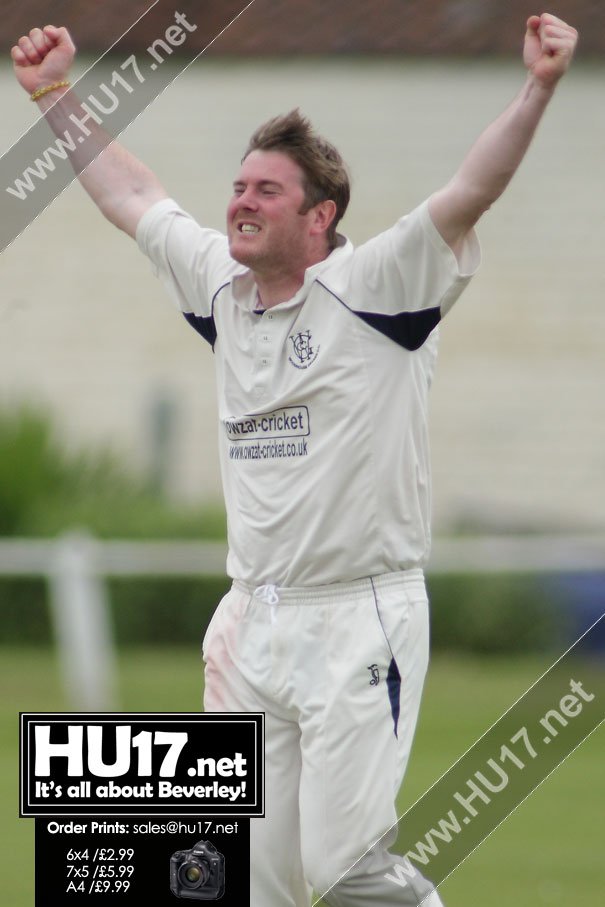 Woodhouse Grange moved to the top of the Hunters York & District League Premier Division with victory over Beverley Town by six wickets. Dave Suddaby finished with 5-18 and Josh Jackson took 3-28 as the visitors were bowled out for 92.  The hosts then became the only side to win both their matches over the bank holiday weekend as Nick Hadfield unbeaten on 39 saw them home with help from Chris Bilton (30).
Acomb lead the table going into the latest round of matches but dropped a place as they ended up on the wrong end of a draw at Stamford Bridge. The home side were indebted once again to Yorkshire's Will Rhodes, free from county duties he scored 88 sharing a stand of 137 for the fourth wicket with Kevin Murphy (71) in a total of 229-8, which would have been more had it not been for Joe Dale's four wickets. Rhodes then took 3-20 as the visitors were restricted to 128-7 in reply, Dale finishing unbeaten on 34 off 93 balls.
For the second time in three days Heworth were involved in a close finish, this time emerging victorious as they beat Easingwold by four runs. The visitors were given a good start by Mark Miezwiski (78), the skipper sharing stands of 65 with Stephen Piercy (28) for the first wicket and 54 with Kyle Waite for the second, but Salman Syed (3-47) pegged them back before Dan Walton (5-58) brought an end to proceedings picking up the last wicket with four balls of the match remaining. Earlier in day Tom Neal (50) completed his second half-century of the weekend and Paul Skilbeck took 4-53 as Heworth scored on 200-7.
Dunnington got the better of the draw against Scarborough, although the visitors got within 17 runs of victory. Jake Murphy continues to impress for the home side, having moved from York prior to the start of the campaign, by adding to Saturday's half-century with 84 and support from Adam Sutcliffe helped their side to 214-8 despite the efforts of Ryan Gibson (3-38) and Jack Holt (3-50). Gibson also led the visitor's response with 82 and James Pick made 42, but Adam Iyer (5-69) and Josh Barrett (3-28) ensured they finished short of the victory target.
Sheriff Hutton Bridge continued their unbeaten start to the season with victory at home to Clifton Alliance by eight wickets, Russell Robinson took 4-23 as the visitors were bowled out for 98, the only substantial resistance coming from Hayden Bradley with an unbeaten 30. The host then raced to 101-2 inside 20 overs, opener Paul Scaling with 36 and Robinson rounding off an excellent personal performance with 41 not out.
Fenner secured their first win of the season with a convincing victory at home to local rivals Hull Zingari. Jack Story top scored for the visitors with 86 out of a total of 166, Steve Sergeant (4-15) and Grant Van Es (3-15) doing most of the damage for the home side, who then cruised to victory for the loss of just one wicket, Will Parker for 54, Ben Hatfield finishing unbeaten on 91.
For the third time in four matches Studley Royal were left frustrated as their game with York II fell victim to the weather, a water logged outfield resulting in no prospect of play.
Hunters York & District Senior Cricket League Premier Division
Woodhouse Grange (30) beat Beverley Town (2) by 6 wickets
Beverley Town 92 (D Suddaby 5-18, J Jackson 3-28),
Woodhouse Grange 93 – 4 (N Hadfield 39*, C Bilton 30);
Dunnington (27) drew with Scarborough (18)
Dunnington 214 – 8 (A Sutcliffe 74, J Murphy 84, J Holt 3-50, R Gibson 3-38)
Scarborough 197 – 9 (D Hartland 25, J Pick 42, R Gibson 82 J Barrett 3-28, A Iyer 5-69)
Fenner (30) beat Hull Zingari (3) by 9 wickets
Hull Zingari 166 (J Storey 86, D Grittings 23, S Sergeant 4-15, G Van Es 3-15, L Laybournre 2-52)
Fenner 170 – 1 (B Hatfield 91*, W Parker 54);
Heworth (30) beat Easingwold (7) by 4 runs
Heworth 200 – 7 (O Sherwood 29, S Syed 30, T Neal 50, R Walton 29, P Skilbeck 4-53)
Easingwold 196 (M Miezwiski 78, S Piercy 28, D Walton 5-58, S Syed 3-47)
Sheriff Hutton Bridge (30) beat Clifton Alliance (1) by 8 wickets
Clifton Alliance 98 (H Bradley 30*, R Robinson 4-23)
Sheriff Hutton Bridge 101 – 2 (P Scaling 36, R Robinson 41*);
Stamford Bridge (26) drew with Acomb (7)
Stamford Bridge 229 – 8 (W Rhodes 88, K Murphy 71, J Dale 4-64)
Acomb 128 – 7 (M Dale 32, J Dale 34* W Rhodes 3-20)
Match Abandoned between Studley Royal (9) and York II (9)
Studley Royal 0 – 0
York 0 – 0