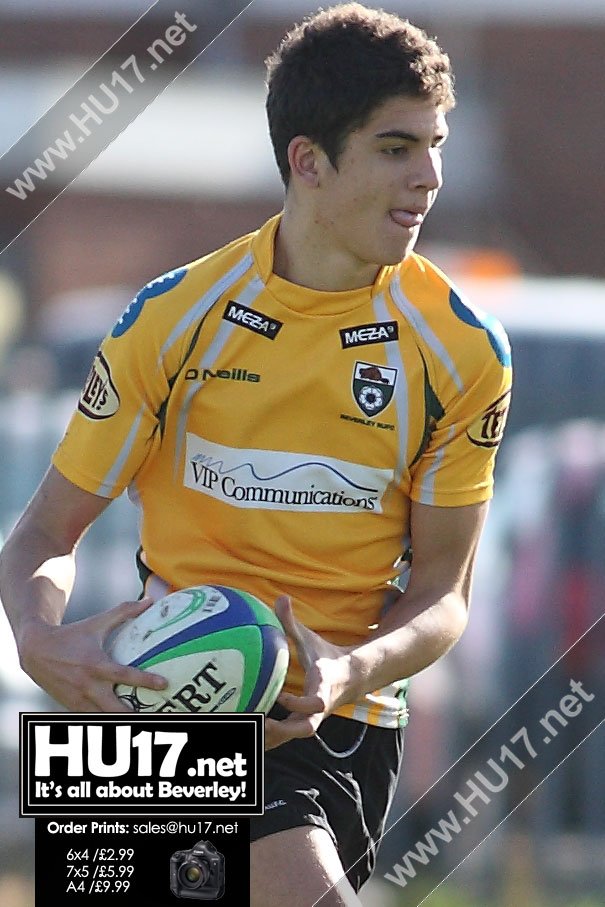 Beverley RUFC Colts made the longest trip of the season to Wharfedale. The Colts were on the back on two narrow losses to Pocklington and Wath Upon Dearne.
Beverley went into the game with plenty of injuries, Chris Chapman away in Ireland, Stephen Price out with concussion, and the Colts captain Ben Smith.
In the first-half, Beverley played down the famous Wharfdale slope and there was a heavy wind also blowing down the slope.
Both teams looked a threat in the first opening minutes with each team holding out one another from scoring. Beverley trying to put scores on the board with two long range penalties which both just landed short.
It was, however, the Colts that were the first team to go over with new comer Harrison Mayou with a great solo run to see him go under the posts 7-0.
Wharfedale came back strong and piled pressure on to Beverley. The injury list was added in the first half, when we first saw Jacob Marin limp off with a pulled hamstring. Then we saw Beverley's centre Jack Garvin walk off with a Broken jaw.
Garvin's departure from the game proved to be a key part in the match as Beverley now had no more subs to call upon for the rest of the game.
To add to Beverley's task Wharfedale put two tries past the Colts to make it 12-7 at half time leaving it all to do for the visitors in the second period. It was going to be a hell of an ask for the lads going up the slope and into the wind.
Wharfedale used the heavy wind and just pinned Beverley back in their half. Wharfedale kept putting the pressure on Beverley and played some fantastic rugby scoring four unanswered tries to make it 29-7.
Beverley fought back strong with two quick fantastic tries. First full back Luke Hazell went over stepping past six of Wharfedale's defence. Then Harrison Mayou got another when he went clear limping on one leg to make it 29-19.
Beverley where back in the game and for the first time they realised they could win this game. Then Wharfedale's called on their bench, which made a big difference as they brought on fresh legs.
Wharfedale scored a couple of more tries but the Colts never gave in and got a consolation try.
Colts Joey Franklin said;
" Wharfedale had the luxury of seven subs on their bench, while we had none, for me factor played a big part in the end result."
"As a team, we never gave up, and we got some reward with a consolation try late on in the game."
"May I also take this chance to say that everyone at Beverley RUFC sends their regards to Jack Garvin, and that he recovers soon. We hope he back on the pitch soon as possible."
The Colts are back out next week against Selby, which will be another difficult game.
Final Score: Wharfedale 49 Beverley RUFC Colts 24