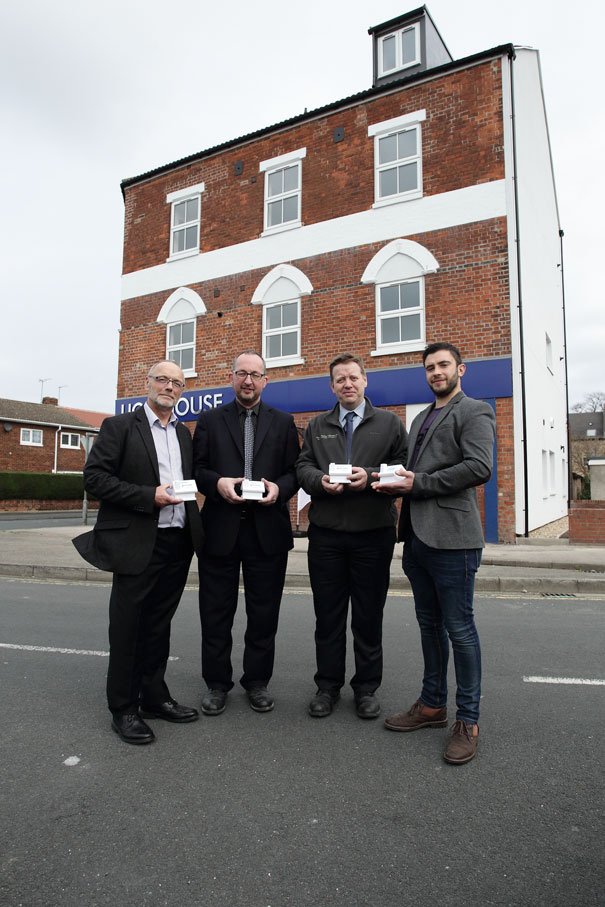 A team of property experts from Beverley has been working with Probe (Hull) Limited to refurbish the Lion Hotel off Hessle Road, a popular pub from the 50s to the late 80s, it had become derelict, part of the Government's Empty Homes Programme to help regenerate the City of Hull and provide affordable housing.
Beverley based Chartered surveyors, Delaney Marling Partnership and building firm PJPS Construction were part of the project team that helped bring the building back from dereliction.
Simon Delaney and Kevin Marling have been working with Probe (Hull) Limited to advise them on the feasibility of refurbishing void properties. Phil Jenkinson from PJPS Construction was contracted to carry out the refurbishments.
Both Beverley firms were delighted to see the official opening where everyone involved gathered to celebrate the opening of Lion House which is now seven multiple occupancy apartments in a building that was previously the Lion Hotel off Hessle Road.
Kathy Mellors, landlady of the pub from 1975-1989, took over from her mother-in-law who resided there from 1953. The family ran a good business, set in the heart of Hessle Road. Mrs Mellors 'rang the bell' on the apartment building to mark the official opening of this flagship project. A host of guests were invited to see for themselves what Probe (Hull) Limited is achieving for local people.
In attendance at the event, Richard Crabtree from the Homes and Communities Agency said:
"It is really encouraging to see the difference that community-led organisations like Probe (Hull) Limited can make in bringing back empty properties into use as new homes. Lion House is a scheme that Probe can be justifiably proud of, and I'm sure future residents will enjoy living there."
Steve Alltoft, General Manager of Probe (Hull) Limited said:
"The opening of Lion House marks the beginning of Probe (Hull) Limited's contribution to the development of Hull. It will also be the first apartment project to generate an income for us."
"The Empty Homes Programme seeks to purchase void properties around the City and refurbish them either as part of the training programme with Hull College or working with local contractors to breath a new lease of life into streets that are home to derelict houses. The Lion Hotel lay empty for many years and subject to fire damage and vandalism the premises were under threat of demolition. Local people are absolutely delighted to see the property refurbished and we have a waiting list of people wanting to move in to the rented accommodation."
Probe's Empty Homes project is providing much needed skills and education, affordable housing and it is regenerating Hull. Other projects include the well-known Rank House on Holderness Road which is the birth place of J. Arthur Rank, the Good News Book Shop on Wright Street and the Belmont Club which was a poplar social club on New Bridge Road in East Hull. Plans are well underway with all of these properties. Probe will provide updates over the coming weeks.