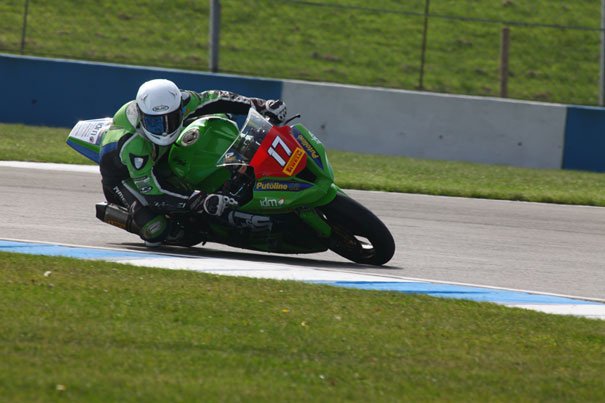 Kevin Van Leuven and Tom Fisher completed their respective races for G&S Racing Kawasaki at Donington Park on Sunday, Kevin in a fine 10th in the Stock 600 race and Tom 23rd in the 1000cc event while Dominic Usher was unlucky to crash out of 14th place mid race.
Starting from the fourth row in 12th place Kevin was held up on the opening lap when riders fell ahead of him. The pace car was deployed for the first four laps but when it finally left the track, the race was back on and Kevin settled into 15th place. On lap seven, he passed Dan Stamper and two laps later moved up to 12th after passing Ben Stafford.
With two laps, remaining Kevin got the better of Ben Currie, moving into the top 10 to take the chequered flag in a fine 10th place to pick up six championship points bringing his total to 44 consolidating his 12th place in the rider standings.
Following his strong ninth place at Silverstone last week, Dominic Usher was full of confidence that he could do the same at Donington this time. But after successfully completing his free practice and first qualifying he crashed out of 14th place in final qualifying. He had done enough.
However, to hold on to his 14th place and started the 16 lap race from the eighth row. He didn't get the best of starts but was soon circulating within the top 15 and on lap six moved up to 14th to chase Leon Jeacock, who was circulating just ahead. One lap later, Dom made a concerted effort to pass Jeacock but lost the front going into the Foggy Esses and crashed out of the race.
User said;
"I am gutted not to have finished the race. I crashed in qualifying but was all fired up for the race and was going quite well. But I clipped the kerb and slipped off at Foggys Esses when trying to catch and pass Jeacock."
Meanwhile further down the grid Tom Fisher began the Superstock 1000 race from the 10th row in 27th place. Tom rode well to maintain his position and moved forward to 25th place on lap five. One lap later, he was up to 23rd and at the midway stage of the race he settled into 22nd position.
But Jonathan Lodge and Cory West were right with him, and both took advantage on lap 10 pushing Tom back down to 24th. The red flag brought proceedings to a halt on lap 15, and a result was declared from positions on lap 14 giving Tom a finish in 23rd place.
Team Manager Mark Fisher said;
"I am delighted with Kevin. He is showing that he has the talent to battle for the points. He was bundled out at the start but fought his way back to give us a top 10 result. I was so disappointed for Usher, he was running well and edging nearer to the rider ahead."
"But Usher was unfortunate to clip the kerb at Hizzy's and down, he went. It was so frustrating for him. Tom went very well today. He is beginning to move further up the finishing order but struggled in the last few laps because of his hand injury and was passed by a couple of people."
The next round is at Assen on September 21 but as the Superstock class is not included on the race programme, Dominic and Tom will contest the Dutch Superbike championship race at the Cathedral of Speed (as Assen is known) while Kevin will race in the Dutch Superstock race on home tarmac.