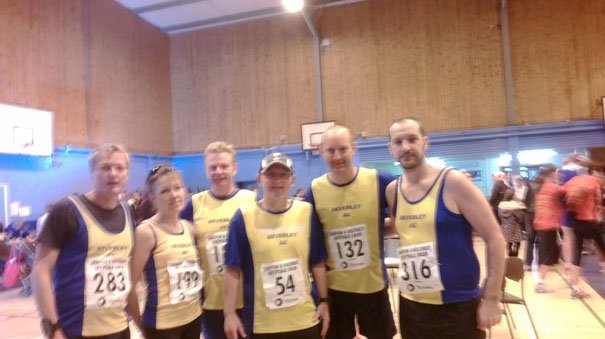 Nine Beverley AC members ventured over the bridge to Barton last Sunday, for the final Club Handicap Series race of the season, The Deepdale Dash 10k.
The series saved one of its most challenging races till the end. This is an undulating 10k course with a number of moderate to steep climbs and, although run in bright sunshine, a biting wind was across or in the face of the runners for a good part of the time.
This is the 4th time Barton and District AC have staged this increasingly popular race, which was an extremely well run and pleasant event, with a start and finish at Baysgarth School and a good carnival atmosphere for the final sprint in.
First Beverley runner home was Andy Johnson, who was 31st overall in a time of 40:37. Next was Steve Parkinson, who continued his impressive and consistent running of late, finishing in 44:30. Pete Watkinson was 4th in the M55+ category in 45:09 and Jayne Dale 6th in the F45+ group. Mariana Barbera's improved year continued as she finished 5th in the F35+ group in 47:58.
Beverley AC finishing times:
Andy Johnson 40:37, Steve Parkinson 44:30, Pete Watkinson 45:09, Jayne Dale 46:42, Andy Tate 46:43, Michael Anderson 46:59, Mariana Barbera 47:58, Andy Grainger 50:48, Catriona Williamson 64:17
Report by Andrew Grainger