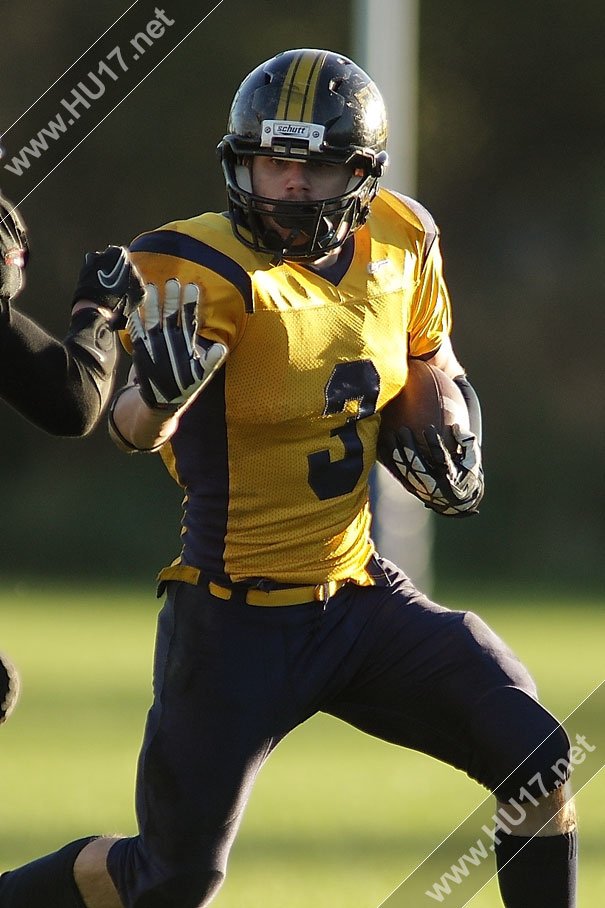 American Football team the Hull Sharks are celebrating after getting their new North Eastern Conference in British University & Colleges Sport season off to a perfect start by beating Northumbria Mustangs.
In difficult conditions at Hull University the Sharks kept the ball on the ground showing their class as they used their running game to unlock a stubborn Mustangs defence.
The touchdown was scored after a sweep on the outside saw Jonathan Farrow dive into the end zone. Under pressure kicker Josh White nerves may have wobbled a bit as he saw his kick come off the upright before going over the bar for the extra point.
The sharks featured a number of rookies in the squad, after last season's success when they ended the season 8-0 only to be edged out in the playoffs they are hopeful of another good season and Sunday's result would have helped boost the teams morale.
Special Team coach Graham McCoid was full of praise for the side, speaking after the match he told HU17.net;
"I am very proud of all the lads. We have had just four weeks to teach most them how to a lay a game they have never played before."
"With the wind we had little choice but to keep the ball on the ground and run it and we did that very well."
The Sharks will hit the road next Sunday when they take on the Huddersfield Hawks, a side the Sharks have beaten in the past, when asked about next week's game McCoid said;
"Although we have beaten them we don't know much about them yet, sides only keep players for three years so until we play them we do not really know what to expect."
The Sharks next home fixture is on 17th November when they will welcome Leeds Celtics to West Campus kickoff is at 1.30pm.
Final Score: Northumbria Mustangs 0 Hull Sharks 7
Man of the match – Jonathan Farrow