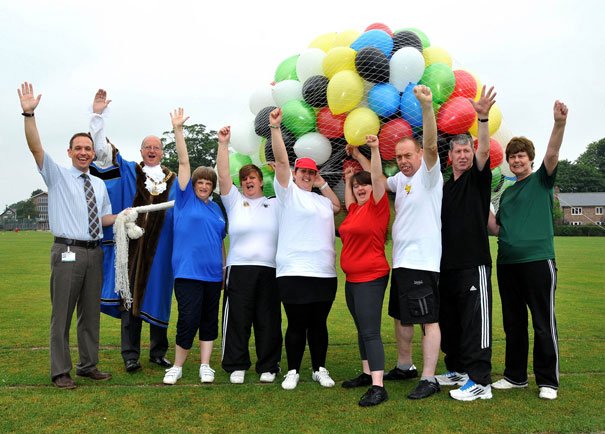 Hundreds of people joined in the fun at an East Riding legacy 2013 event held to mark a year since the 2012 Olympic and Paralympic Games.
People with special educational and physical needs from across the East Riding took part in the three day event, held at Longcroft School in Beverley from 24 to 26 July.
It followed the success of a similar event last year when the East Riding held its own Olympic-themed programme of activities involving users of day services from across the region.
Participants this year competed for medals in a wide range of sporting activities including athletics, frisbee golf, boccia, volleyball and darts before getting together for a celebration disco.
The chairman of East Riding of Yorkshire Council, Councillor Claude Mole, officially opened the event by launching balloons, with the help of people representing each of the adult education centres taking part.
On Friday, the participants were joined by legendary former Hull City player Dean Windass, who also took part in the fun.
During the week the teams won points from each sport, and the winners were Team Bridlington with 30 points.
A paralympic legacy festival for younger people was also held at the school on the final day.
The East Riding legacy event was organised in partnership between the school, East Riding Adult Education and Adult Social Care Services, with the help of volunteers from the Beverley Building Society and the support of Blue Keld, which had donated bottled water.
The Beverley Building Society also donated £250 to the event, and sponsored a Sports Personality of the Day award, presented on each of the three days.
The participants had worked with adult education in the run up to the event. Many have gained accredited qualifications through artwork personal development skills and some of their artwork was on display Ryan Bartram, adult education officer for East Riding of Yorkshire Council, said:
"Following on from our successful partnership project to mark the Olympics in 2012, it's great that we are carrying this legacy forward."
"We are proud to work in partnership with Adult Social Care Services and Longcroft School for a second year – it's clear from the smiles of everyone who has taken part that it has been another great success."
John Ireland, day care services team leader for the Millers in Beverley, said:
"This event has developed into a wonderful opportunity for us to be able to support the people who access day services across the East Riding to get together and have a massive amount of fun."
"Many of the people have developed friendships with others from different areas, and it is wonderful to be able to get everyone together for such a fun event, tinged with a little competitiveness."
Matt Snowden, Longcroft School Community Liaison Co-ordinator, added:
"As a school, we are committed to working with the wider community we serve. Throughout the summer holidays the site is used for a variety of sporting events and the East Riding Legacy 2013 is a real highlight."
"This has been in the planning for several months and we are more than happy to host an event that means so much to so many people. At the daily medal presentations, the atmosphere has been one of pure joy and celebration."